FREDA'S PALACE GRAND OPENING IN LONDON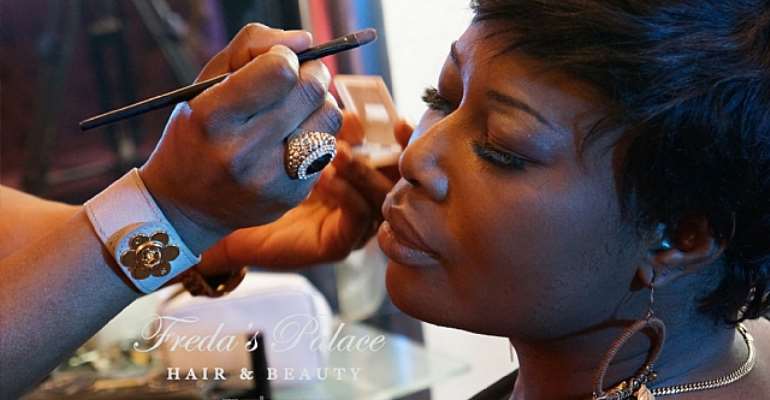 The 28th of March and 1st of April 2014, saw the grand opening of Freda's palace: signifying beauty and elegance, situated in the heart of South Norwood in London.
On 75 Norwood High Street, SE 25 6EB to be specific.
Friends, clients and dignitaries as well as the elite in society, came in their bundles to grace the occasion and acknowledged the values of what the Palace represents to them.
Freda is a Ghanaian hair designer, stylist and a qualified beautician based in London.
As the chief hair stylist of the former Freda's Posh and Nails salon, she has revamped the salon into a palace, with the state of the art gadgets, equipments and hair accessories.
As her flagship hair and beauty salon morphed into a palatial enclave, she is leaving no stone unturned as far as the hair industry in the UK is concerned.
"It is an exquisite parlour where hair and beauty is our utmost comfort zone" said Freda.
And according to their styling philosophy, the palace is where each and every strand of hair counts.
The serenity and deco of the palace is aligned to their class within the hair and beauty industry in London.
Freda said: "the dexterity with which we design and style hair, makes our clients and customers competitively stand out where ever they go.
"We are also establishing an academy that would enhance the development of hair and beauty in Ghana".
Asked the reason she is doing all these, Freda replied: "I am creating this as an empire that seeks to broaden its horizon by extending its academy to all the regional capitals in Ghana.
"And students who will excel with flying colours, would be given the chance to visit the main London Palace to see how it (hair) is done in the UK".
Although throwing big parties in London is her signature, Freda confessed: "tonight is not a party despite the bottles of Champaign popping, I see it as a social-business night".
In squeezing more from Freda's hair empire, this is what she said.
AS A PROFESSIONAL STYLIST AND HAIR DRESSER, WHERE DID YOU OBTAINED YOUR QUALIFICATIONS FROM?
FREDA: I came to this country as an apprentice from Ghana and continued at a salon called le Diamond Noir, in Balham.
Having realised the advantages at the disposal of potential hair stylists in the UK, I enrolled into Croydon College for the Level 1 & 2 in Hair Dressing, to enhance my knowledge in my field of endeavour.
As in everything one needs a sound education to obtain quality work.
So I pursued another course at the Crown Academy in Watford in order to be versatile with plaits, weaves and locks as a professional stylist.
WHAT MADE YOU ENTER INTO THIS PROFESSION?
FREDA: Before venturing into the hair cycle, I was a professional teacher who was trained at the Saint Louis Training College in Kumasi.
Coming to the UK, I then realised I love beauty to its fullest, so why not venture into the beautician business.
As I love to look bold, good and beautiful, I decided to share that love by making other women look stylish and cushioned as well.
Since the hair epitomizes our beauty, I like women to look extra beautiful to attract the opposite sex, whether married or single.
Because to me, looking good is the ultimate step to a sound mind.
WHICH BRAND DO YOU WANT TO SET UP IN THE INDUSTRY?
FREDA: I really like women to feel very important not by accident, but by sheer class in terms of beauty at any given time in their life.
We are incorporating a portrait section, where our clients would be given a portrait of themselves by a professional photographer to be taken home, to remind them of how beautiful they are.
WHY THE NAME CHANGE, FROM FREDA'S POSH HAIR TO FREDA'S PALACE?
FREDA: Being a perfectionist, I initially named it - Freda's Beauty Perfection. As time flew by, I was told by my customers and clients that I have made them extra posh, so I decided to name it as such.
We all know that when time changes one has to change as well, but in my case I change before the time.
I just believe that our clients are outstanding and therefore deserved the best. So it is time we moved into a beautiful palace to make them comfortable, hence this royal initiative.
WHAT WILL BE THE DIFFERENCE BETWEEN THE FORMER AND THE LATEST?
FREDA: We did not use to offer any free treatment for our clients before, but now while a client is waiting, she will be offered a false -eye -lash treatment or a free wax as well as foot, neck and other massages.
WILL YOU BE WORKING WITH MOSTLY QUALIFIED AND PROFESSIONAL HAIR STYLISTS OR SOME APPRENTICES AS WELL?
FREDA: Because I believe in quality, I mostly work with qualified professionals and like minded apprentices.
Being an apprentice once, I like to train others who are serious and passionate to stand on their feet to achieve the unachievable. And that is my inspiration.
ARE YOU GOING TO RUN AN APPOINTMENT BASED ROTA OR JUST WALK-IN, AS OTHERS DO?
FREDA: We are going to be running an appointment based rota, while walk-in clients are also welcome.
WHAT ARE YOU GOING TO BE DOING THAT WOULD MAKE THE HAIR PALACE DIFFERENT FROM THE OTHERS?
FREDA: Before our clients come in, we even know their choice of hair style and favourite drink all in the luxury when booking. As well as their 'Palace Portrait' that reminds them who they are.
WHO ARE YOUR PROSPECTIVE CUSTOMERS AND CLIENTS?
FREDA: Anyone who feels like a princess or a queen and deserve a bit of pamper, is cordially welcome.
HOW MODERATE WILL YOUR CHARGES AND PRICES BE?
FREDA: Well, with this economic climate draining everyone, we offer an attractive tag for every client and their style and our contact number is 07931511911 or 020-865-353-00.
BY YAW NKETIA: TOUCHING YOU FROM A DISTANCE WHILE COLLECTING, COLLATING AND REPORTING AS JOURNALISM DEMANDS.