Young Educators Foundation collaborates with Edem, Elizabeth Baitie to promote reading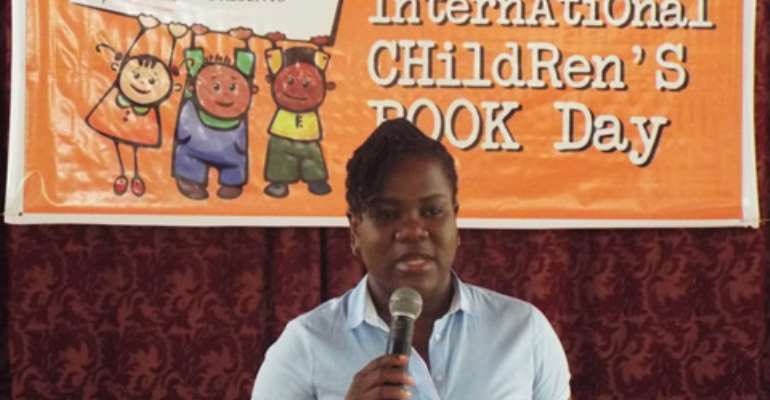 Young Educators Foundation (YEF) a non-governmental organisation dedicated to promoting children's education on Wednesday, April 2, 2014 partnered with Edem and renowned author, Elizabeth-Irene Baitie  to commemorate International Children's Book Day.
International Children's Book Day, which is celebrated April 2 of every year is aimed at promoting love for reading among children and to create exposure to published children's books.
More than 200 students and pupils drawn from basic schools in the Ashaiman Municipality were engaged in different activities such as reading sessions and fun games to mark the day.
Popular recording artist, Edem of the "Volta Regime" fame read a passage from an old Ewe novel --Tɔkɔ Atɔlia (The Fifth Landing Stage) -- as part of the reading session.
After reading in flawless Ewe, Edem interpreted the passage in English and asked the students to take the morale in the story seriously -- among which include the need to be truthful and avoid greed.
He said he partnered YEF to commemorate the day because he has a passion for education and learning.
"I believe that education is the ultimate way to stay ahead in this competitive world we are in today. So once I am in a position to promote it I always will do that", he said.
He added that the title of his new album, "Books and Rhymes" is a reflection of his love for education.
Author of critically acclaimed "The Twelfth Heart", Elizabeth-Irene Baitie, also read a passage from the book to students.
Last Wednesday's International Childrens Book Day was also supported by students of SOS Herman Gmeiner who donated many books to the schools and students.
Representatives from the Ashaiamn Municipal Assembly Education Directorate were also present at the event.