Ugandan MPs refused pay rise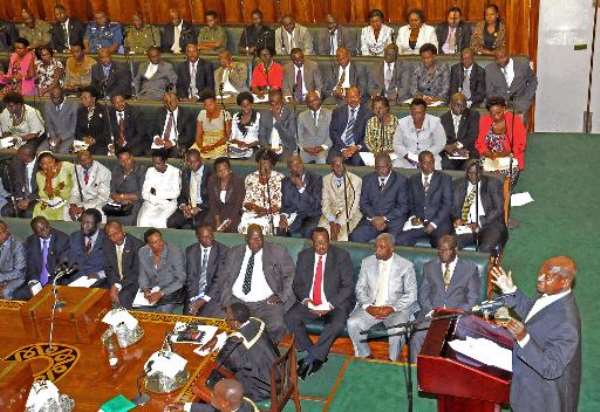 President Museveni addresses the 9th Parliament on the improvement of the Uganda Economy in Kampala on February 10, 2012. By Peter Busomoke (AFP/File)
Kampala (AFP) - Ugandan MPs have seen their controversial demand for higher salaries rejected by the finance ministry after it decided the impoverished country had more important priorities, officials said Thursday.
Deputies in the national parliament had drawn anger and insults after demanding a major pay hike even though they already earn about 15 million shillings (about $6,100) a month -- sixty times more than most state employees.
Uganda's finance ministry spokesman, Jim Mugunga, told AFP that the request was "not a priority, as much as we value the great work they are doing".
"The national priorities at the moment are different. We are looking at infrastructure to boost production," he said.
The pay demand provoked angry reactions on social media, with Ugandans pointing out that many civil servants earn a mere $100 a month and public services are woefully inadequate.
Aside from their salaries, Ugandan MPs also receive various benefits including expenses for travel and the purchase of a personal vehicle.
According to a report in the independent Daily Monitor newspaper, Uganda's chief auditor has also sounded the alarm over $25 million of expenses by senior officials, including $15 million of travel costs by MPs, that had not been properly accounted for.
Uganda has come in for regular criticism over allegations of rampant corruption, and the country is also facing the threat of a cut in foreign aid following the adoption of a tough anti-gay law that would see homosexuals jailed for life.