5,000 police complaints against Dutch populist Wilders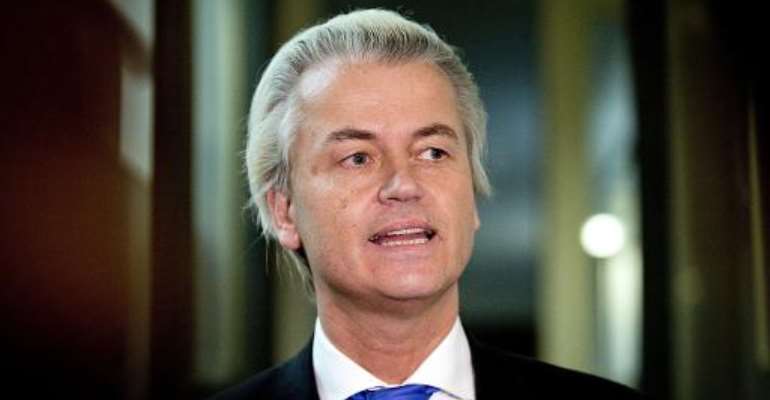 The Hague (AFP) - Dutch police have received around 5,000 complaints of discrimination against populist Geert Wilders after he called for "fewer Moroccans", the prosecutor's office said Thursday.
Police in The Hague have tallied around 5,000 complaints nationwide as of Wednesday, the public prosecutor said in a statement, but no decision has yet been taken on whether to prosecute the platinum-haired anti-Islam politician.
Wilders has faced an unprecedented wave of criticism, including from within his own Party for Freedom (PVV), after he promised his chanting supporters two weeks ago that he would arrange for there to be fewer Moroccans in the Netherlands.
The public prosecutor's office said last week it had stopped counting the hundreds of complaints filed against Wilders and police stations produced partly pre-filled complaint forms targeting Wilders to save them time.
Wilders' PVV party had been the most popular in the Netherlands before the furore erupted, opinion polls said.
Television pictures at the March 19 post-local election rally showed Wilders in The Hague asking party faithful whether they wanted "fewer or more Moroccans in your city and in the Netherlands?".
"Fewer! Fewer!" the crowd shouted, with a smiling Wilders answering: "We're going to organise that."
A court in 2011 acquitted Wilders on hate-speech charges, ruling that he had targeted a religion, which is permitted under Dutch freedom-of-speech laws, rather than a specific ethnic group.
Wilders, who is often reviled in Dutch immigrant communities for his fiery anti-Islam rhetoric, has in the past compared the Koran to Hitler's "Mein Kampf" and has called Islam a fascist religion.