Petrol Price Hikes: No End In Sight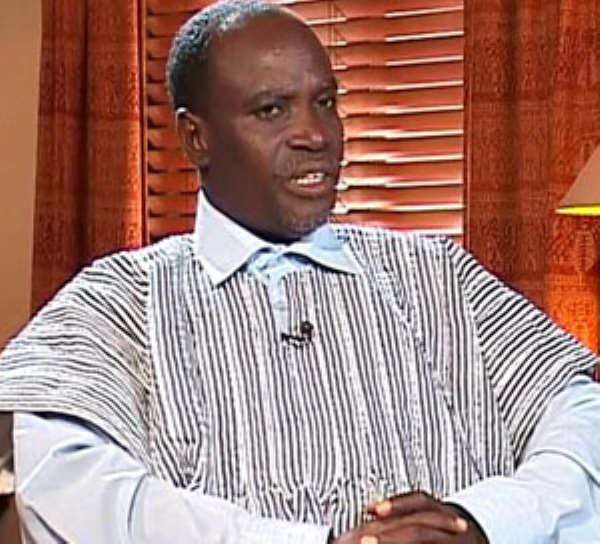 Moses Asaga, National Petroleum Authority boss
It appears the consternations expressed by consumers of petroleum products over high prices would not be enough to convince the John Mahama-led government to reverse its full cost recovery policy in the petroleum sector.
The policy which started last year, has seen petroleum prices reviewed every fortnight in the country - most of the reviews being price increments averaging 7 percent.
DAILY GUIDE'S Raphael Ofori Adeniran caught up with Moses Asaga, the man at the helm of affairs at the petroleum regulatory body - the National Petroleum Authority (NPA).
D.G: How would you describe your transition from Parliament [as a Parliamentarian] to the helm of affairs at the NPA - an institution considered one of the most volatile in the country?
Asaga: I think that having come from Parliament is one issue, but I'm not only coming from Parliament, I'm also coming as a former Deputy Minister of Finance. I'm also coming along with corporate practice; having worked with Ecobank, the Ministry of Finance, being on the Board of the Bank of Ghana and also having had experience being on the Public Utilities Regulatory Commission as a regulator and also being a board member for the Ghana Commercial Bank…If I have to bring all these accumulated experiences into NPA, then NPA is really not very new to me in terms of the expertise that we need to run NPA successfully…You know that the petroleum price build up have levies for the budget which is the Petroleum Tax, the Road Fund, etc; these are issues that I'm conversant with… I was among the committee that looked at the NPA Act and therefore most of the regulatory issues, the structure of the NPA, the duties and functions of NPA, you name them, passed through my committee…I will say that the President probably brought me to an area where he wanted me to use my expertise.
DG: Obviously you are on familiar grounds; so what do you intend to achieve as the head of the NPA?
Asaga: I want NPA to be seen as a fair and an unbiased regulator for both consumers and petroleum service providers. We want to bite hard and to invoke all our powers when it comes to sanctions against the players in the industry. That is very important as a regulator. Beyond that, I think that we want to implement the full cost recovery in pricing methods. We have started it, we've partly done it, but it has not come to full conclusion because of the state of our economy and the social classifications that we have in Ghana. So we still have some of the social products that we don't do full cost recovery on. As the industry matures, I believe that we would get to the full cost recovery. Of course, the full cost recovery would be related to products that we think are more of commercial products, therefore during my tenure, I will make sure that we have full cost recovery so that this idea of subsidy that used to put a heavy burden on government financing would be a thing of the past.
DG: What products, specifically, are you aiming at achieving full cost recovery on?
Asaga: Gasoline [petrol] would be full cost, diesel would be full cost. Now kerosene is almost approaching full cost recovery because now the rural population that we used to target kerosene for because of lack of electricity…most rural areas now have electricity. Then again, because of these solar projects, it has reduced the requirement of kerosene by our rural folks. Now kerosene is almost close to some of the products that are considered commercial because you could easily mix kerosene to become gasoline. We noted that there was a lot of diversion of kerosene, so the bulk of the demand for kerosene was an artificial demand; not just for the rural people who needed it, but people use it to adulterate and sell it as gasoline. So with the increase in price of kerosene, we have now seen that the demand for kerosene has gone down. It means that we have been able to eliminate those who were using kerosene for other purposes.
DG:  What about the products you refer to as social products?
Asaga: We still consider pre-mix as a social product; we are still promoting LPG, so LPG too would also receive some bit of subsidy.
DG: For some time now, the NPA has been reviewing petroleum prices almost every fortnight. A lot of people have lost track of the cumulative level that prices have been increased to since this started. Could you tell us the total quantum of increments you have done so far?
Asaga: I will call the prices as price adjustments because sometimes it can go up, sometimes it can go down and then sometimes it will stay flat. I think since I came to be the head of NPA, if this is about my third month, then it means I have done price adjustments six times. I know that within that period, we had one where prices went down, we had about three that stayed flat and maybe we had two that went up. If you want to take the aggregate or the average, I will say that there had been an increase in the neighbourhood of 5 percent.
D.G: People react to these announcements of new prices, albeit not in an exactly positive manner. As the regulator, how do you feel when you get negative feedbacks from the general public?
Asaga: Well, I'm also a consumer and I'm quite sensitive to the ex-pump price, but also you look at the cost of the procurement of the product and then you also need to keep the Bulk Distribution Companies (BDCs) in business, so the full cost recovery enables the BDCs to be able to recoup their investments. It should be a two-way flow because these product prices are normally affected by external factors. For example, crude oil price is international, petroleum products that are refined abroad are international, so you need to look at the import parity and if the import parity demands that we should increase the price, we would not have a choice not to increase the price. Secondly, we also know that one of the variables in the price build-up is the exchange rate between the dollar and the cedi and this is a monetary policy. Once the exchange rate is unfavourable, it would definitely affect the price at the end of the day. Consumers need to bear with us that this is a product that is not manufactured in Ghana. It is a commodity that is traded, and we are also affected by the international prices and the exchange rate.
D.G: One thing that agitates the minds of consumers is whether this automatic price adjustment system is an indefinite policy. Is it?
Asaga: Yes, I think that at the end, this should be the way forward because it is just trying to reflect cost of bringing in one litre of gasoline or diesel.
D.G: Can we contain it?
Asaga: This is something that we want to maintain. It is not only in Ghana; you go to the US, you go to the UK, South Africa, etc, petroleum prices keep changing. Sometimes it goes down, sometimes it goes up; that is the market.
D.G: Are we going to be saddled with the fortnightly price changes or you would want to review the frequency?
Asaga: I know that the fortnight reviews are quite frequent, the Authority [NPA] too has been looking at whether we should extend the period to say, one month, should it be rather quarterly? I think that industry practitioners have seen that normally when you wait for a longer period, it becomes a very big jump and then it really disorganizes peoples' ability to be able to buy the commodity or even for industry to be able to plan very well. So, we believe that the smaller adjustments are probably the way forward in the short term. In the medium to long term, we would review it and then see what decision we would take…There are possibilities to review our period of adjustments depending on the merits or demerits.
D.G: So you mean the fortnightly price reviews are convenient for you for now?
Asaga: No, as NPA and for government planning, I think that the frequency is quite cumbersome, but for the sake of the consumers, we have to bear these difficulties or challenges of having to put ourselves there every two weeks, reviewing prices.
D.G: We are doing a lot of imports of finished products even though we have a refinery at Tema. That cannot be in the supreme interest of the country, can it?
Asaga: I think this is a downstream product; we are now into private sector participation in commodities. Oil is just like any other commodity like gold, and gold business activities have been privatized and therefore in the same way, we think that in the downstream, the market forces should take care of it. There should not be State regulation on how downstream products are marketed. I think in the number of BDCs participation and their market share is as a result of the fact that Tema Oil Refinery could not refine all the products we needed. Tema Oil Refinery used to refine and provide the market with about 70 to 80 percent of the products and therefore it was only about 30 to 20 percent that required the BDCs to participate. Now the situation has changed and reversed…These are private companies that are held by Ghanaians. I believe that if the situation of the Tema Oil Refinery improves, and they increase their capacities and then we also get other refineries installed in the system; if our domestic demand is met by the refineries, then the BDCs will turn to lift from Tema Oil Refinery…
D.G: Do you foresee a point where Tema Oil Refinery would go back to its glory days?
Asaga: Yes, I think the government is talking with some strategic investors. The President recently met with a group (Petrol Saudi). Petrol Saudi says they want to come into Ghana and partner with Tema Oil Refinery where they may capitalize it and expand and refurbish their facilities.