Vodafone Kick Starts 'Healthfest'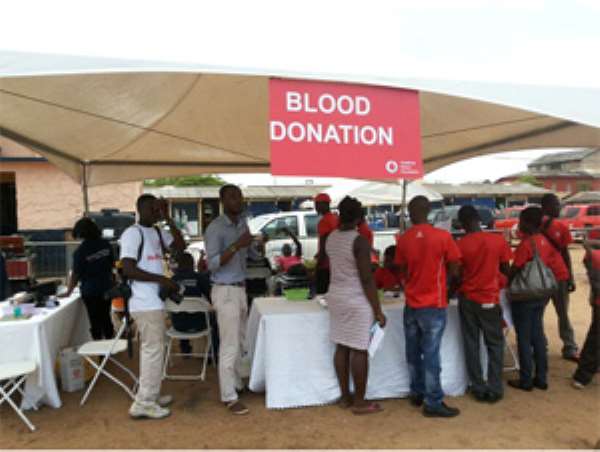 Blood donation booth at the event  
Telecommunication operator, Vodafone Ghana, in the spirit of giving back to deprived communities has launched the Vodafone Healthfest in Accra.
The health initiative, spearheaded by Vodafone Foundation-the charitable arm of the company, is aimed at improving the health status of people by providing free health screening and care for deprived communities in the country.
The year-long exercise began at the Jamestown community with a free health screening for diseases such as diabetes, hypertension and Hepatitis B.
Dental checks were also conducted for patients while a team of doctors gave free medical advice and medication to patrons for some specific diseases. Also, a gym and aerobics centre was set up for the community members to exercise as well as a tent for blood donation.
Nana Yaa Afriyie Ofori-Koree, Head of the Vodafone Foundation who interacted with the media said, 'The initiative is an opportunity and vehicle for Vodafone to invest in the lives of the people in the communities we operate within.'
She said the company was aware of the importance of safe quality healthcare hence the exercise to enable people to have access to safe, quality healthcare.
'This is actually bringing healthcare to the door step of the people.  We chose James Town because we want to reach the less privileged in society,' she added.
Ms Ofori-Koree further noted the exercise organised in partnership with the National Blood Bank, GlaxoSmithKline (GSK) and DKT International would be replicated in the other nine regions of the country
Dr Bryte Asamoah, clinical director for Vantage Medical Solutions and the medical team handling the screening for Vodafone Foundation said the general health screening focused on diabetes, hypertension and hepatitis B because of their underlining cause of mortality and morbidity in the country.
'It is very important to screen people with this disease condition. It is something that we think will be of great benefit to the people,' he said.
He said the most important outcome of the exercise is for people to go home informed about their health condition to seek further medical attention.
'I will thank Vodafone because my blood pressure, sugar level has been checked and I have been told that they are all good. I wish they will do this at other places so other people can also benefit from their gesture,' one of the beneficiaries noted.
 By Jamila Akweley Okertchiri