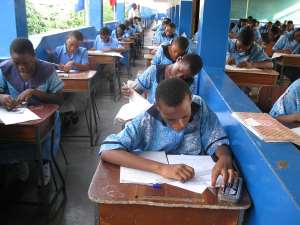 Barely three decades ago when a secondary student passed his or her WAEC at a credit level in one sitting , such student gets instant scholarship from government or private institution to study abroad. Some of the brilliant students had opportunity to write A levels and passed with distinctions and given automatic scholarships to study outside the country which made some prominent Nigerians to be beneficiaries of government scholarships then, but today, only few are given scholarships with strict scrutiny.
It was a joy to see your child then having straight 5 credits including the two compulsory subjects Mathematics and English Language at the WAEC examination. Students then were always determined to burn their midnight candles for any examination while their parents were ready to provide all available modalities for their children to pass their examinations without qualms. It is sad that parents are now aiding and abetting examination malpractices while government institutions are the major players of these caustic and corrosive vices in Nigeria.
In spite of the different government examination bodies set up by the federal government to tackle the increase of students writing examinations in Nigeria, yet the law enforcement agencies have abysmally failed to prevent the excesses of examination in public and private schools, the scourge is at geometrical progression. The econometric of bringing NECO was to tackle the massive failures and irregularities of WEAC examination in Nigeria but the reverse is now the case. Students no longer take their studies seriously because of the so- called failed educational policies in the country. The entire educational system is politically bastardized by those that pilot the affairs of education sector in Nigeria.
Despite that the federal government has many a time changed the Ministers of education in order to overhaul the educational system, yet examination malpractices is at the mercy of God. Time without number when National Universities Commission (NUC) has banned some Nigerian Universities from running degree programmes due to lack of accreditation of some vital courses in their universities. Even students that are dullest in the system are gaining admissions into the nation's universities without stress. It is now ridiculous to see dull students having excellent grades in their WAEC, GCE and NECO examinations and the funny part of it is that these students cannot spell their names or write simple sentences in English Language. To some extent, some graduates now have first and second class uppers that they cannot defend. The purpose of setting up these various examination bodies to test the ability of students in Nigeria, are being speciously defeated by educational manipulators. The excesses of examination in Nigeria can be traced to those policy formulators on education. The UNESCO 26 percent on education in Nigeria is yet to be put into consideration while the exodus of Nigerian students attending foreign universities is nothing to write home about.
It was recently reported in one of the National newspapers that the school fees paid by Nigerian students in Ghana universities only is over the education budget in Nigeria. This is a sad commentary on Nigeria political leadership. No country grows economically, if her education system is not fixed to the core. The vision 20: 20: 20 is yet to be attained because of the failed leadership in Nigeria.
Even, when the former minister of education under the then President Olusegun Obasanjo. Dr. Mrs Oby Ezewezili converted some notable Nigerian polytechnics into universities to award degrees; the system did not change because of the HND and BSC dichotomy. Nigerian universities and polytechnics have succeeded in producing certificate graduates than creative ones in recent times. The likes of Wole Soyinka, Chinue Achebe, Pat Utomi, Agatha Amata, Goodluck Jonathan and others passed through these Nigerian Universities that are now agents of examination malpractices.
One, the falling standard of education in Nigeria is one major problem affecting the education system in the sense that policy formulators have compromised over time. Even our private and public schools are nothing to write home about. In private setting today, you as an employed teacher cannot discipline any student without permission from the owner of the school otherwise you get a sack letter from the school authorities.
One of the recent courtesy visits of the present Registrar and Chief Executive of Joint Admissions and Matriculation Board, JAMB, Prof. Dibu Ojerinde to the Economic and Financial Crimes Commission (EFCC) to curb the myriad of malpractices plaguing the conduct of public examination in Nigeria which is yet to be curtained by this law enforcement agency under the leadership of Mr. Lamrode. Though JAMB had tried many a time to raise a standard but those sent to supervise these examination centres are the major perpetrators of these acts and nothing else. Most school owners across the country are the major perpetrators of these examination mal practices in Nigeria. The Unified Tertiary Matriculation Examination (UTME) is not left out in terms of examination malpractices in the country.
Two, paper qualification is another cause of examination malpractices in Nigeria in the sense that there is much emphasis on certificate than theoretical knowledge. It makes students to have more drive for certificates than acquiring knowledge. In the words of Napoleon Hill" Education comes from within you set it by struggle, effort and thought". We must not allow the drive of paper qualification to make mockery of our educational system in Nigeria. Some people who are not university graduates today performed better in their theoretical knowledge. The world inventors today never attended any formal education but highly celebrated in all facets of life. The best computer scientists in the world never had any paper qualification in their lives but excelled well in their various careers.
Three, Brain-drain among our university or polytechnic lecturers or teachers are caused by our government who are not sensitive about the value of education. Some lecturers are partners to crime in the sense that some sold sub -standard handouts instead of text books to students to exploit money from them. Even when some universities authorities had banned the sales of handouts, some lecturers still engaging on it and even leaking examination questions to students for substantial amount of money. Some demand money for text and examination from students to have good grades. Sometimes exchange marks for sex. The incessant ASUU strikes and non-payment of lecturers' salaries also causing the high brain-drain of lecturers to African universities and others. Corruption has eaten deep into the fabric of education in Nigeria that is why if any Nigerian student that wants to go to foreign university, he or she must pass through their education system before giving any formal admission because of the polluted Nigeria educational system in recent times.
Four, lack of overhauling our educational system in Nigeria. Most university, secondary and primary teachers and lecturers are half- educated in terms of qualification. Some of these teachers never had good certificates which prompted the present Edo State governor, Comrade Adams Oshiomhole to sack some unqualified teachers that cannot construct simple sentences. It is a sad commentary to see some teachers these days communicating in Pidgin English to their students.
Five, poor educational facilities in our public and private schools in Nigeria. Recently in one of the national dailies reported that the University of Lagos students cannot get decent hostels for its students due to over population of students at the university. Government has failed to maintain its facilities in our universities than giving licenses to private universities to operate in the country.
Six, ASUU strikes, time without number, ASUU had embarked on indefinite strikes disrupting the university academic calendar while students suffered it by staying at home for several months which had adversely effects on the students in terms of their academic performances and, also providing room for examination malpractices in Nigeria.
Seven, special centres for candidates is another problem causing high profile examination malpractices in Nigeria. Some of the classified tutorial classes are meant for examination malpractices which many candidates register with to have good grades in their examinations. Even impersonation is at geometrical progression in Nigeria. Despite that JAMB has tried to introduce different ways to curb examination malpractices in Nigeria, yet students and invigilators have new method to perpetrate the act. Some private schools are also engaging in examination malpractices for their schools to remain the best among all. Both registered and unregistered schools also involving in examination malpractices. Everybody must be blamed for these callous examination malpractices in Nigeria.
Finally if examination malpractices must be curtained in our public examination, then government must be ready to decentralize the education sector, while adequate funds should be budgeted to the sector to avoid brain-drain of lecturers and students in Nigeria. The government must revive TC11 and de-emphasis on paper qualification so that every student that gain admission into the university or polytechnic must know that hard work is the key to academic success in life. Our external universities must also be monitored in order to prevent examination malpractices. Education is the key to success in life.
Godday Odidi. Public Affairs Analyst. 08056124798. Lagos.