CPP To Hold Conference In Tamale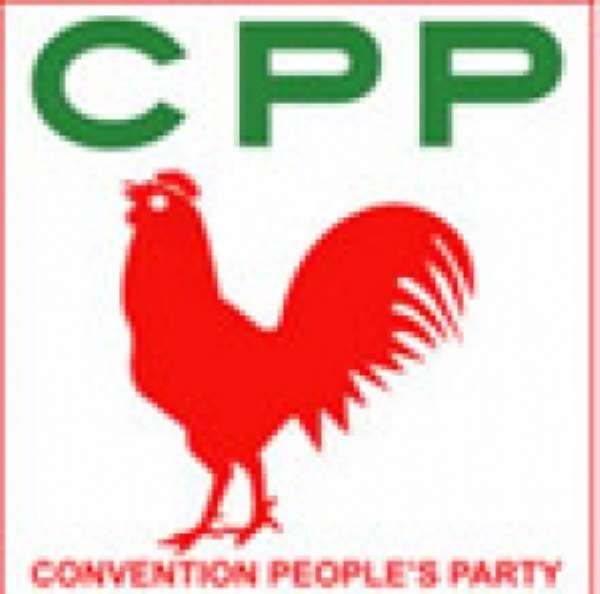 The Convention People's Party (CPP) is holding a two day conference in the Northern City of Tamale from Friday 4 April to Sunday 6 April 2014.
The National Executive Council (NEC) meeting of the party would be held at the GNAT Hall, Tamale and is the biggest gathering of the party next to a Congress. A NEC is held in accordance with Article 74 of the CPP Constitution.
On the agenda would be a demonstration of the Party's new Electronic Database and Dues Paying System which would also serve as the basis and register for future elections of the Party.
There would be discussion of dates from the Regions on the holding of Elections at Polling Stations, Electoral Areas, Constituency and Regional Branches with the conference agreeing timelines leading to the National Delegates Congress to elect National Officers.
The Conference would is attended by All National Party Officers; All Central Committee members which includes all Regional Chairpersons and Party Spokespersons, All Regional Vice-Chairpersons, Secretaries, Organizers, Treasurers, Youth Organizers, Women's Organizers and Education Secretaries; Five members of the Council of Elders; Party Members of Parliament; Two representatives each of overseas branches; Ten (10) representatives of the Youth League; Ten (10) representatives of the Women's League, and Two (2) Founding Members from each Region.
The conference would be addressed by the National Chair and Leader of the CPP – Hon Samia Yaba Nkrumah.
Nii Armah Akomfrah
CPP Director of Communication
www.conventionpeoplesparty.org