Failure to approve 300m loan could be dire for peace mission troops -- deputy Defence Minister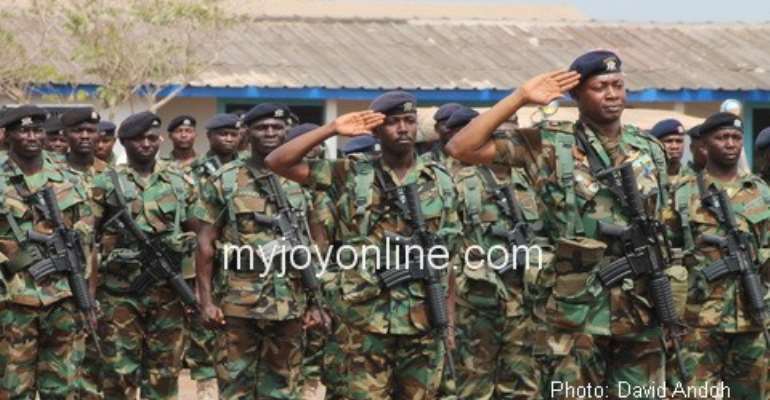 Deputy Defence Minister, Ebenezer Tei Larbi, has warned troops serving in peace missions abroad could be exposed to attacks due to Parliament's failure to approve a $300 million loan on Monday.
The $300 million loan agreement between Government of Ghana and VTD Capital Plc, Russian Bank based in UK , is aimed at procuring logistics and equipments for personnel of the Ghana Army for effective peace keeping missions in South Sudan and Mali.
However, disagreement over aspects of the loan agreement  /news/2014/April-1st/300-million-loan-agreement-causes-stir-in-parliament.php has stalled the process in Parliament.
"It is going to delay our process of mobilizing because we need to the necessary equipment to our people to really get involved in the assigned duties. But currently you can describe them (troops) as being naked, because if you don't give them the right gear, they may not even protect themselves before even protecting those are supposed to protect", said the Deputy Defence Minister.
He is confident Parliament will meet soon over the loan agreement and see to its approval.
Joy News' Parliamentary Correspondent Elton John Brobbey, who has secured a national security due diligence report on the loan facility signed by the National Security Coordinator, Col Rtd Larry Gbevlo Lartey,  states that the arranger of the loan will earn $5 million and the manager of the fund will also earn $6 million dollars.
Even though the loan, according to the agreement will be due by July, the exercise to which the loan will be applied begins on April 1 and the deadline for the deployment of Ghana's military contingent was on Monday April 1, Brobbey stated.
MP for Efutu Alexander Afenyo Markins told Joy News the minority in principle is not against government securing a loan for the military. All the MPs are asking is due diligence, he stated.
He found it intriguing that a company would agree to arrange a loan facility and earn an amount of $5 million and go ahead to issue a disclaimer that it cannot be held liable if anything goes wrong.
Chairman of Parliament's Finance Committee, James Klutse Avedzi, however said though the committee failed to reach consensus with the minority, the agreement is in the best interest of the country.