CEPAT Gets Minilab To Combat Counterfeit Drugs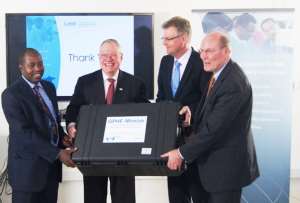 In its quest to combat falsified, substandard and counterfeit medicines in countries in Sub-Saharan Africa through increase in the number of experts and available tools, the Center for Pharmaceutical Advancement and Training (CePAT), has been provided with its first Minilab to enhance its operations.
The Minilab, a mobile mini-laboratory with limited resources to screen for medicines quality was provided by Global Pharma Health Fund (GPHF) to CePAT in the training of its personnel in detecting fake and substandard medicines.
The Minilab developed by GPHF consists of two portable and tropic-resistant suitcases that contain the means to detect inferior or ineffective medicines. It offers quick, simple and low-cost test methods to check medicines for external abnormalities, identity and content, and identifies 57 active pharmaceutical ingredients, particularly those in medicines commonly used against infectious diseases.
The two Organizations, CePAT and GPHF last year formed a strategic alliance to work together to improve access to good quality, safe, and beneficial medicines and also strengthen human resource capacity to conduct quality control testing to detect substandard and counterfeit medications in Africa.
Director of CePAT, Akwesi Boateng, speaking at the handing over of the Minilab in Accra said the Minilab will be of tremendously help to the center because the center will be able to test for drugs without necessary going to the laboratory.
According to him, the Minilab will improve the centers capacity to detect substandard and counterfeit drugs through training at CePAT's facility in Ghana.
"With the provision of this Minilab, CePAT aim to build Sub-Saharan Africa's human resources capacity in pharmaceutical quality control by developing local talent to serve as technical experts in the quality control and quality assurance of medicines has been boosted".
The Center for Pharmaceutical Advancement and Training (CePAT) in Accra, Ghana, was established by the U.S. Pharmacopeial Convention (USP) to help build human resource capacity in pharmaceutical quality assurance and quality control by training local professionals to serve as technical experts.
Provided under USP's Global Health Impact Programs (GHIP), CePAT delivers an integrated platform of training, laboratory services and consulting services to support and strengthen quality assurance systems in a sustainable way in countries in Sub-Saharan Africa.
The center is aimed to equip national and local regulatory authorities and officers, quality assurance and quality control professionals, manufacturers, and others in the pharmaceutical industry with knowledge and skills to promote access to good quality medicines.
CePAT serves all of Sub-Saharan Africa—a region facing serious health issues and a proliferation of substandard and counterfeit medicines.
The Global Pharma Health Fund (GPHF) is a charitable organization initiated and funded exclusively by donations from Merck KGaA, Darmstadt, Germany.
Within international development assistance initiatives, GPHF aims to improve health care and medicines supply, and also supporting the fight against counterfeit and substandard quality medicines proliferation using GPHF-Minilab® test kits.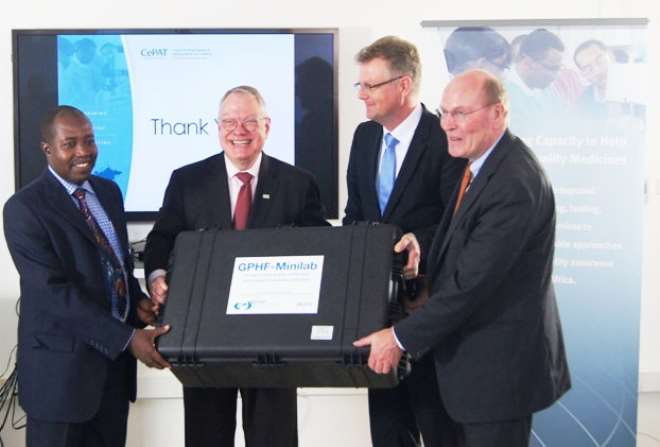 Handover Of The First Minilab In The GPFH - CePAT Alliance / From left to right: Kwesi Boateng (Country Manager CePAT), Michael Maves (Vice President USP), Frank Gotthardt (Chairman Of The GPHF And Head Of Public Affairs Of Merck) And Frank Stangenberg-Haverkamp (Chairman Of The Executive Board Of E. Merck KG)