Solder In Court Over Robbery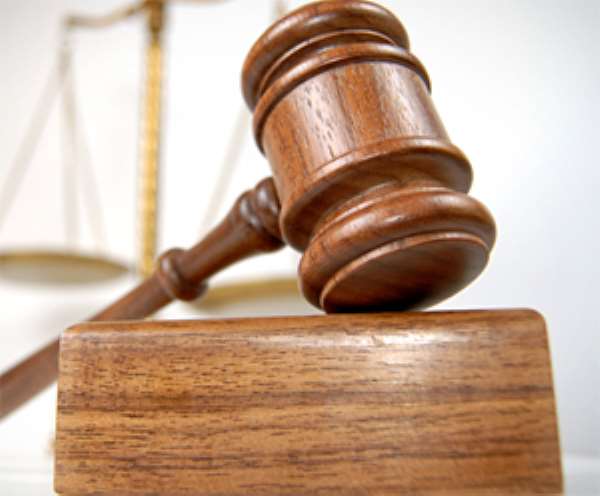 WOI Victor Dedoo, a soldier stationed at the Burma Camp Air Force Base has been arraigned before an Accra Circuit Court for robbery.
The suspect is facing two charges of conspiracy to commit crime and robbery. He is alleged to have acted with four others, who are now at large, with a common purpose to rob.
Dedoo has also been slapped with the charge of robbing one Victor Kweku Frimpong of his active ingredient, a pharmaceutical product used in the manufacturing of painkiller worth GH¢74,000.
When he appeared before the court presided over by Francis Obiri, the accused pleaded not guilty to the charge of robbery and was accordingly remanded into police custody to reappear on April 14.
The prosecutor, Chief Inspector Emmanuel Afful said the complainant, Victor Kweku Frimpong, is a druggist resident at Dansoman, while suspect Dedoo is a soldier stationed at the Air Force Base in Accra.
He said early in February 2014, one Obina expressed interest in buying the active ingredient with a witness in this case and the witness also informed the complainant who happened to be his friend.
The prosecutor stated that at about 11:30 am on February 18, Frimpong and the witness contacted Obina to inform him that they had received the product, indicating that Obina went to the complainant's drug store at Dansoman to inspect and agree to buy the product.
According to Chief Inspector Afful, they bargained and agreed on GH¢50,000 after which he decided to go to Tudu to bring the money for payment.
He said a couple of minutes after his departure from the store, he brought in eight men, two in military uniform and one armed with a pistol, adding that they beat up the complainant and witness and took away a mini drum containing the product.
The persecutor further told the court that on February 19, the complainant made a report to the Police and on March 25, upon intelligence, the suspect was arrested and identified by the complainant as one of the military men among the robbers who was armed with a pistol.
Chief Inspector Afful averred that on March 27, witness Ralph McMainoo also identified him (Dedoo) in an identification parade as one of the soldiers who beat them up and drove him and the complainant in their vehicle with registration Number GR 4764 Z through Accra Township and finally dumped them at the Accra Academy area.
Further investigations are still underway to bring the other suspects to book.
Email:  [email protected] mailto:[email protected]
By Jeffrey De-Graft Johnson