Osei-Kusi Foundation Launches Award Scheme For Volunteerism And Community Service For Tertiary Students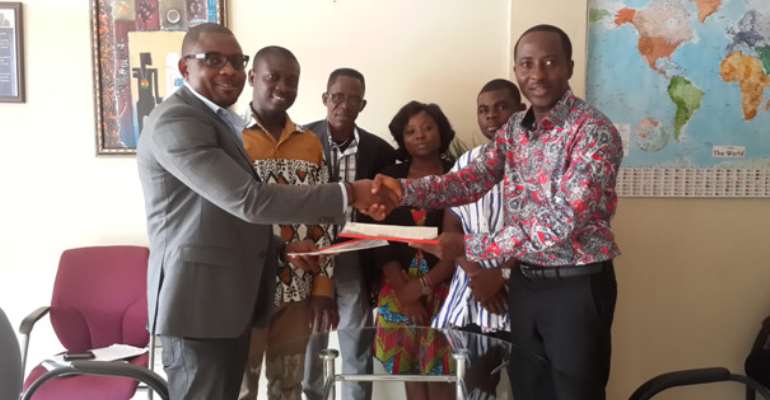 Osei-Kusi Foundation, an NGO that focuses on investing in young people through mentoring, coaching, rural missions and scholarships, and Selfless4Africa, a US-based NGO on Friday, 28th March launched an award scheme for volunteerism and community service.
The Executive President of Osei-Kusi Foundation, Mr. Kofi Osei-Kusi said the scheme is to encourage young people to cultivate the spirit of volunteerism, community service and patriotism. He also indicated that Osei-Kusi Foundation is committed to making the Ghanaian youth more resourceful, focused and committed to community service.
He stated that, the scheme will task students in our tertiary institutions to select a deprived community, research on it and come up with an idea to improve the lives of the youth in that community. Participation is opened to all tertiary institutions and they are to be represented by a team of 3 to 5 students.
Mr. Kofi Osei-Kusi also added that the prize for the winning team is GH₵ 9,000 (GH₵6,500 to implement the community project and GH₵ 2,500 for participants of the winning team). In addition participants will receive copies of books authored by Mr. Kofi Osei-Kusi.
Mr. Ernest Otumi, an Executive member of Selfless4Africa, which is the key partner of the award scheme said he is excited about the community service project and included that the 21st Century youth must be trained to be selfless, innovative and have passion for serving their nation.
He also said Selfless4Africa is an NGO that believes in empowering the youth to affect lives of the rejected in society. He expressed his organization's readiness to support more youth development projects.
Also at the event was the President of National Union of Ghana Students (NUGS) Mr. Samuel Binfoh Dankwa and Mr. Paul Worlanyo Adanu, Local NUGS President of KNUST. They both lauded the initiative and praised Osei-Kusi Foundation and Selfless4Africa for introducing the initiative for the Ghanaian youth.
Mr.Darkwa in short speech said, NUGS will not just be a mouth piece for Ghanaian students but also advance the interest of students through initiatives like these.
The event ended with signing of a Memorandum of Understanding (MOU) between Osei-Kusi Foundation and Selfless 4 Africa to implement the award scheme for tertiary students.