Review position on salary arrears, else... - NAGRAT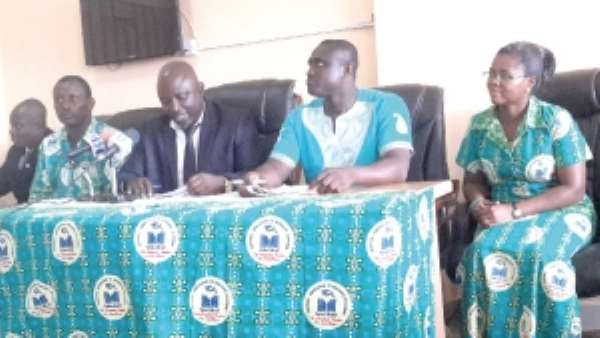 Graduate teachers have asked the government to review its position on salary arrears with respect to recruitment, promotion and re-activation of teachers, otherwise they will advise themselves.
Addressing a press conference in Accra yesterday, the Greater Accra Regional Chairman of the National Association of Graduate Teachers (NAGRAT), Mr Rene Senyo Kwami Korkor, gave the government up to April 30, 2014 to review its position on the salary arrears of teachers "or we will advise ourselves".
"We chanced upon a letter dated November 4, 2013 and signed by the Minister of Finance and Economic Planning, Mr Seth Terkper, directing that salary arrears with respect to recruitment, promotion and re-activation of staff should not exceed three months," he said.
He wondered why the government should pay salary arrears for only three months and not the number of months a teacher had worked, adding, "It takes a long time for the salaries of newly recruited and re-activated teachers to be paid."
 
Newly trained
Mr Korkor said another worrying aspect of the directive by the government was that newly trained teachers from the colleges of education had to survive on their allowances they took at college until their results were released. 
"Their results also take more than a year to be released before their documents are processed and placed on the right salary scale. So I ask: Why should they be paid only three months of salary arrears?" he asked.
He said the directive by the minister "is working against the Ghana Education Service (GES) staff through no fault of theirs. So we are calling for the immediate withdrawal of the letter and the arrears of all affected staff of GES paid by the end of April 2014 for peace and harmony to prevail".
 
Pension contribution
On the pension contribution of staff, Mr Korkor expressed concern over the refusal of the government to remit GES workers' pension contributions to GES trustees for proper management and administration.
"The new pension law enacted in 2008 mandates the government to remit our contributions to fund managers to invest, so that we will get better pension, come 2015 when workers are to start enjoying enhanced pension," he said.
He said, however, that since 2008, the government had been taking teachers' pension contributions but it was yet to remit GES trustees, adding, "We feel the government is toying with our pension and we are calling on it to, as a matter of urgency, remit all our pension contributions in its possession to GES trustees to manage."
 
Incremental credits
Mr Korkor also touched on the non-payment of incremental credits and vehicle maintenance allowance, recalling that NAGRAT had raised the two issues and the government had promised to address them. 
"As we speak now, the incremental credits for 2011 and 2012 and vehicle maintenance allowances for 2011 and 2013 are yet to be paid," he added.