Ofankor chief observes one year anniversary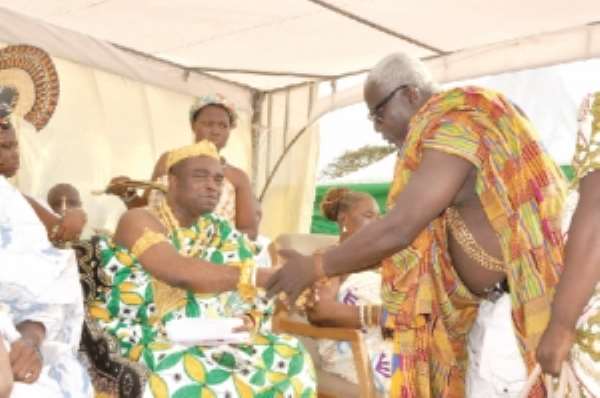 The Chief of Ofankor, Nii Kortey Boi II, has called on all leaders to see leadership as an opportunity to serve.
He made this statement at a durbar organised by the elders and people of Ofankor to commemorate his first year anniversary as Chief of Ofankor.
He said  leadership could be fruitful if leaders saw the people as brothers and sisters who might be more knowledgeable than themselves and have something useful to offer to their communities. 
 
Development
Nii Kortey Boi II called on the government to extend more development projects to the people of Ofankor. 
He said although attempts had been made to extend some development projects to Ofankor in the past, it had been inadequate and there was still the need to   improve on educational institutions, provide potable water and expand roads, particularly the road linking the main Ofankor highway to the old Nsawam road.
 
Education
He also said the Ofankor Planning Committee was planning  with the traditional authority to help the children of Ofankor to pursue formal education.
"A process to secure scholarships  for brilliant, needy pupils within the community has already began," he stated.
 
Discipline and cleanliness
The Town Development Committee has also put measures in place to ensure discipline and cleanliness in Ofankor.
 "Very soon we shall be planting trees in the town to provide shade for all and sundry," he noted.
He charged all citizens of Ofankor, both home and abroad to return to their roots to help enhance the image of Ofankor  and entreated all ethnic groups, religious organisations, educational institutions and all Ghanaians to be law-abiding.
Nii Boi also thanked  the Ofankor Council of Elders for their immense support and counsel during his one year of reign and urged them to continue with the good work to make Ofankor a better and safer place to live.