Nigeria Road Safety Boss In Ghana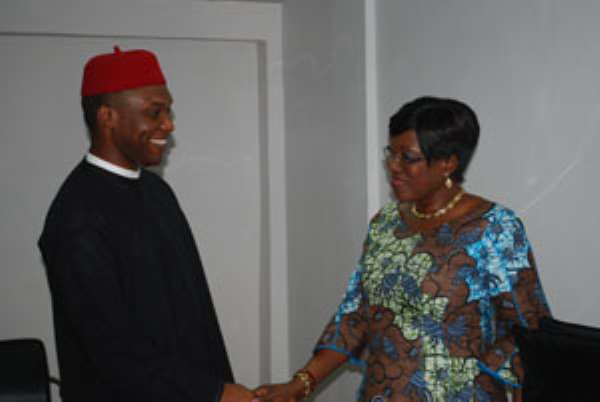 Corps Marshal Osita in a handshake with Mrs. Dzifa Attivor.
The Corps Marshal and Chief Executive of the Nigeria Road Safety Corps, Osita Chidoka,  has commended the National Road Safety Commission (NRSC) for its efforts at collaborating with other agencies to ensure sanity in the road management of the country.
The Corps Marshal and his entourage, who were led by the CEO of the NRSC, Mrs. Obiri Yeboah, made the commendation when he paid a courtesy call on the Minister for Transport, Mrs. Dzifa Ativor and the Driver Vehicle Licensing Authority (DVLA) yesterday.
The Nigerian Road Safety boss said he was in the country to express his organization's appreciation to the government of Ghana and other Ghanaian delegates who attended the 5 th Road Safety Lectures which coincided with the 25 th anniversary of the founding of the Federal Road Safety Corps in Nigeria.
He averred that road safety issues had become a matter of great concern to government as they bother on protecting the lives of the people whose manpower builds any nation.
He was worried about the current rising number of road accidents, and emphasized the needed to put measures in place to reduce the carnage.
Mr. Osita Chidoka mentioned three key factors namely the road, vehicle and the driver, which he said interfered with road usage, but noted the later determines the combination of the other two factors and for which great enforcement was crucial for defensive driving.
He disclosed that Nigeria had put in place a number of road safety measures which he mentioned as advocacy and continuous review of best road practices, to merit the demands of a fast-changing technological world.
He further said Nigeria had also introduced 'Zebra Ambulance' stationed at vantage points along major roads as an intervention to provide professional services to crash victims.
The Corps Marshal, who spoke on a number of issues regarding road construction, stressed that road engineers should design roads in such a way that they engage motorists and keep them active throughout the drive.
The Minister for Transport, Mrs. Dzifa Attivor, said plans were far advanced to make the NRSC an authority as their Nigerian Counterparts.
The Minister was hopeful that such an action would put more powers into the Commission to help them play their roles effectively.
The Director of Driver Vehicle Licensing Authority (DVLA), Mr. Cheyuo Wienaa Musah, who represented the CEO of the DVLA, was happy that Ghana and Nigeria would soon have a common database for drivers and vehicles operating in both countries.
The DVLA Director for Planning, Monitoring and Evaluation (PME), Mrs. Mabel Sagoe, gave an overview of the operations of the DVLA.
She said the DVLA has 28 operational agencies and provides 15 different types of Services to the public.
Mrs. Sagoe revealed that the DVLA in 2013 registered 140,000 vehicles – a 12% increase annually – adding that there were about 1.8 million vehicles in Ghana.
 
By Solomon Ofori