Miners Discuss Environmental Safety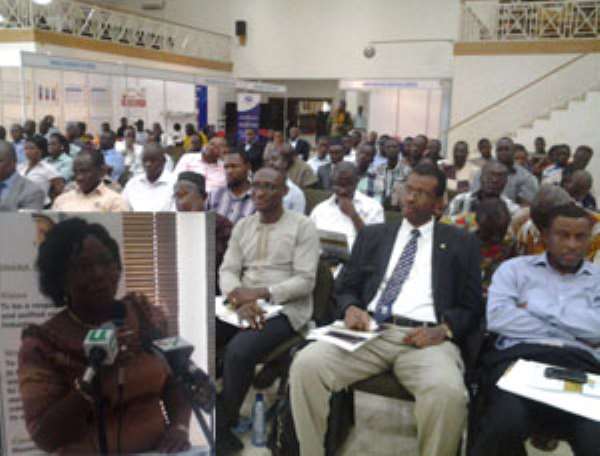 Participants at tehe conference, inset. Bernice Adiku Heloo
Participants at tehe conference, inset. Bernice Adiku Heloo
The Deputy Minister for Environment, Science, Technology & Innovation, Bernice Adiku Heloo, has appealed to mining companies to adhere to the country's mining laws to ensure environmental safety at all times.
She indicated that management of mining companies must adopt measures that would reduce spillage of cyanide and destruction of farmlands and settlements within their mining concessions.
She also stressed the need to transform those engaged in small-scale mining or 'galamsey' operations into regulated ones so that they would appreciate their obligations in order to ensure environmentally and socially responsible mining.
The Deputy Minister made the call while addressing the opening session of a two-day Environmental and Community Relations Conference and Exhibition organized by the Ghana Chamber of Mines (GCM) for mining companies at Tarkwa.
It was under the theme, 'Promoting environmentally and socially responsible mining; the role of the environment and community relations practitioner.'
She commended some of the mining companies that were observing sound technical and engineering principles and practices by using modern, appropriate machinery and operational methods to protect the environment.
She appealed to GCM, Environmental Protection Agency (EPA) and other institutions mandated to continue to supervise activities of mining companies to ensure that they comply with the terms of their operations.
Hon Heloo suggested that the operations of mining companies must be explained to the public regularly to promote peaceful co-existence.
'Of late, my outfit has been receiving complaints from some mining communities about the renege of responsibilities of some mining companies.'
She mentioned that mining companies must create serene atmosphere at their operational areas to promote harmony between them and the host communities.
Yaw Efah Berfi, Deputy Minister of Lands & Natural Resources, on his part, called for responsible mining in Ghana since the sector continues to contribute immensely to the country's economic development.
He also stressed that mining communities needed to be educated on the operations of mining companies within their areas for their mutual benefit.
Dr. Toni Aubynn, Chief Executive Officer of the GCM, explained that the chamber represents the collective interest of companies involved in mineral exploration, production and processing in Ghana.
He revealed that a chunk of the mining revenue was spent on development projects in the country.
He commended government for adhering to suggestions that 30 per cent of the royalties paid to government by the mining companies should be channeled to the local communities for infrastructure development.
 
From Emmanuel Opoku, Tarkwa