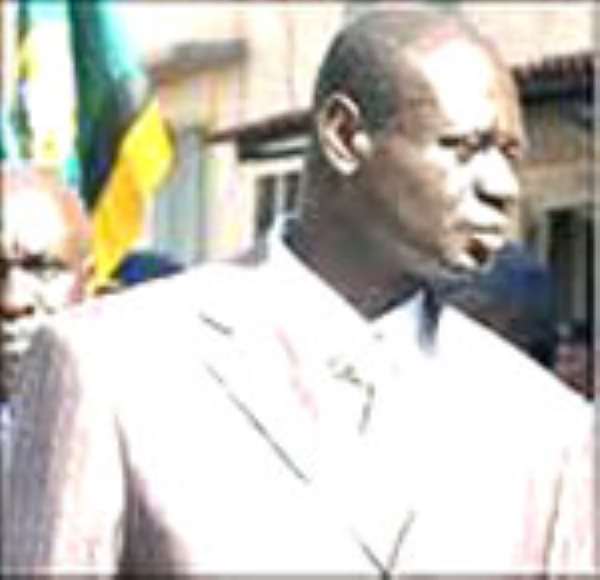 Ashanti Regional Minister Samuel Sarpong paying homage to Otumfuo
Ashanti Regional Minister Samuel Sarpong paying homage to Otumfuo
THE ASANTEHENE, Otumfuo Osei Tutu II, has sternly cautioned regional ministers in the country not to allow their political affiliations to influence their work.
Just like the President of the land, he pointed out, regional ministers are appointed to office to champion the development agenda of their area without any discrimination.
'Your region is your constituency just as the country is the constituency of the President,' Otumfuo reminded the regional ministers, warning them not to act like 'political party ministers.'
The Asante King therefore entreated government officials, and in particular, regional ministers, to play leading roles to ensure that their regions were developed appreciably.
Otumfuo said this when the outgoing Ashanti Regional Minister, Eric Opoku visited the Manhyia Palace on Friday to introduce his successor, Samuel Sarpong to him.
The Asantehene told politicians to make the development of the country their major preoccupation after electioneering periods, saying 'after politics it should be about Ghana's growth and nothing else.'
He was of the strongest conviction that the country would experience major development if politicians began to understand that developing the country was their major task.
Present at the function were the Deputy Ashanti Regional Minister, Samuel Yaw Adusei, Ashanti Regional Police Commander, DCOP Kofi Boakye and Kumasi Mayor, Kojo Bonsu.
The Asantehene commended Hon. Eric Opoku for his humility and dedication to work, urging him to sustain his hard work to benefit the people of the Brong Ahafo Region.
He urged the newly appointed Ashanti Regional Minister, Samuel Sarpong to continue the work of his predecessor so that the area would see massive transformation.
Otumfuo reminded Messrs Sarpong and Opoku that the President's decision to re-appoint them was an indication that they were performing well, urging them to continue working hard.
Hon. Eric Opoku said he was leaving the Ashanti Region in a peaceful state, adding the area had also seen massive development in terms of education, health, roads, portable drinking water, just to mention a few.
He, however, bemoaned that Anglogold Ashanti at Obuasi recently sacked some of its staff and had plans of laying-off additional 413 due to the reduction in gold prices on the world market.
Hon. Opoku said in the face of the difficulties facing the mining company, illegal miners had been encroaching upon Anglogold's concession, and therefore entreated the security officials in the region to tackle the issue of illegal mining.
 
FROM I.F. Joe Awuah Jnr., Kumasi