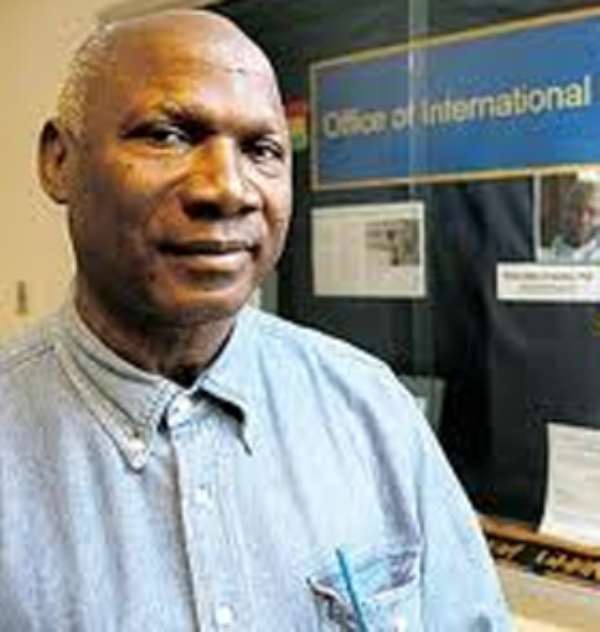 By Kwasi Ansu-Kyeremeh
Be productive; we will strip the University of its power to control its boundaries and we will continue to borrow. They are words spoken with spite and written into leading newspaper headlines during the week just gone past.
As expected, they were repeated on radio and shown on television. There were electronic versions too. All of it is the usual idle talk from the idle talk source of promise without fulfilment.
My compatriots and I are being talked into being productive. I doubt if the speaker knows what it is to be productive; unless it is reproductively productive. My doubts rest in cocoa production and oil refinery production. They are two absolutely essential industrial areas that would serve the economy well. Between them, they could earn foreign currency or reduce its local consumption drastically.
Like the evil traits of a Midas touch, everything the hands of the mouth speaking these directives have touched has turned into the unhelpful and unwanted. With cheap mouth talk, he who touches to cause loss has managed to make everything that can be productive unproductive.
Until his role as adjunct or head in command of the motherland's economy, cocoa production was in record quantities. When they, the congress elements were crowing only recently about reaching one million tons yield, they knew nothing that it was the mass spraying strategy they had halted in 2009, that had exponentially increased production.
And Tema Oil Refinery (TOR), Kwame Nkrumah's TOR is crying for empowerment to produce. It has been sitting idle since January 7, 2009. Who is it that has not seen it fallowing as congress ingrates import finished oil products to make dollars for their pockets. If you have all the power in the world to create production and you only choose to talk and not do it, you become boring. Yes, boredom we continue to be bored.
So, all you who have queries about increased production, you should revisit the mass cocoa spraying exercise and the moribund TOR outfit for clues about increased production.
Stop your re-engineering, uselessly naming National Youth Employment Programme (NYEP) Ghana Youth Employment and Entrepreneurial Development Agency (GYEEDA) and Northern Development Fund (NDF) Savannah Agricultural Development Agency (SADA), just concocting mouthful labels, without any engineering knowhow.
Sometime ago, in the 2010 Act, I prompted the University of Ghana community about the danger in replacing the constitutional appointing authority of Article 195(3) with that of Article 70.
The latter constitutional provision hands appointing authority of the Council Chair to the President. The university counts only on luck now that the Chair is willing to uphold academic freedom in the face of crude dictatorship attacks.
After spending the motherland's money carelessly chop chopping suya and pamper-clothe his baby, an MP, out of the blue, has awakened up to what will 'best serve the public and the country.' To him, it is his duty to congress to help kill any quiet time University of Ghana can have in conducting its academic business.
He has vowed to the University roads thoroughfare. Of course, the man is of a brainless class, so why not.
If the University had had a congress activist chair like the one who ousted one of the most productive vice-chancellors in the University's history in the year of our Lord two thousand and six, the institution would have been in a total mess now.
The point is the University now depends on the accident of luck than designed constitutional arrangement for level-headed Council Chairs.
All it would have taken would have been a link between a weak council chair and knee-jerk parliamentarians who care little about how the motherland's treasury is monitored than frivolous curtailing of academic freedom.
Nothing will stop congress from its sworn oath to borrow as much money as it can. The loans may be procured for buying khebab and pampers or for ferrying companions to and fro obi man so (other people's motherlands) on the account of the motherland. As if to say the more you complain the more we would pursue debts, the chief minister has reiterated his leadership's penchant for borrowing, knowing very well their bunch of greedy bastards would escape the a-sorrowing that would most likely result from their a-borrowing.
In this day and age when revolutions of accountability seem to be affecting hitherto unfathomable credit crunch economies, congresspeople, with glee, are able to tell it to my compatriots' and my face that they will borrow and borrow and borrow whether we are worried about the future repercussions or whatever.
They will borrow to chase after the token. Rain or shine, they will incur debt, bad debt. They are already looking forward to harvesting judgment debt, a key source of their pocket-filling with dollars. Poor motherland!
By Kwasi Ansu-Kyeremeh