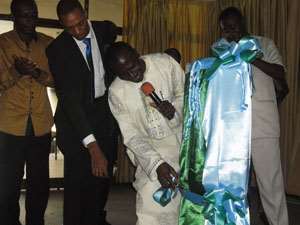 By Melvin Tarlue
George Kumi from Ministry of Health cutting tape for the software on behalf of Sherry Ayittey with support from Augustin Houde whilst Simeon Von Salapki from Ministry of Food and Agriculture (Right) looks on
MissionSoft, a subsidiary of BTC- a strategic institution focusing on business transformation and process-engineering with specific emphasis on telecommunication and database has launched healthcare software in Ghana
known as 'PowerEngine Cloud Healthcare'.
The new software is a healthcare management system developed to facilitate health personnel in storing patients' records, diagnosis treatment, case notes, theatre records and medical records, amongst others.
Powered with diagnostic information from the Head of Department of Surgery of Korle-Bu Teaching Hospital, Prof Joe Nat Clegg-Lamptey and Dr Asari Offei, the system is expected to provide a reliable source of diagnostic, treatment and discharge information which could significantly improve the linkages between diagnosis and treatment.
Minister of Health, Sherry Ayittey in a speech read on her behalf at the launch of the software in Accra on Saturday, commended the developers of the software for their innovation.
According to her, the health ministry would collaborate with MissionSoft to promote the software in the country and on the international market.
In calling for collaboration between the government and private individuals within the health sector, she said sustainable healthcare demanded sound collaboration amongst key stakeholders within the sector.
She, therefore, urged all key players within the sector to collaborate effectively in order to boost its performance.
 
Country Director of MissionSoft, Augustin Houde in a speech said PowerEngine Cloud HealthCare would provide accurate and consistent information and improve the quality of data to facilitate decision making within the sector.
Meanwhile, MissionSoft has well launched a software package for the agriculture sector known as PowerEngine Agric ERP.
The package was developed to help farmers keep accurate and concise data on their produce and to prepare their financial statements.
PowerEngine Agric ERP is expected to ultimately lead to more foods production and improve the living conditions of farmers.
 
By Melvin Tarlue