Meteological Agency predicts early heavy Rains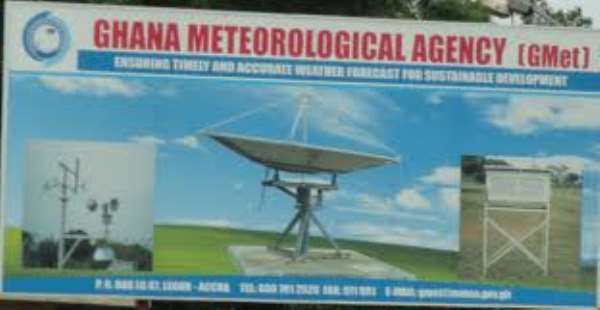 Ghana Meteorological Agency
Accra, March 30, GNA The Ghana Meteorological Agency (GMA) has predicted that the country will experience early onset of rains and which will last for long period this year.
Most parts of the country is expected to also have average to above average rainfall from April June whilst part of June to July is expected to have reduced rainfall, Mr Charles Yorke Director of Research of GMA said this when he briefed the media on the outlook of 2014 major rainy season.
Mr. Yorke said the heavy rains expected this year will be above 80 per cent normal rainfall.
He explained that the year will also experience short rainfall intervals, which he noted was good for agricultural purposes and these heavy rainfalls would stretch from the coast through to the northern part of the country.
Mr Yorke said the Upper East Region will have its onset from April 28th - 8th May, Upper West would experience late onset from April 8th-April18th, Northern Region would have an early to normal onset date of 7th-17th April whilst the transitional zone would also have its early onset from March 4-14th March.
GNA