Anti Corruption Crusader Urges Parliament To Expedite Action On RTI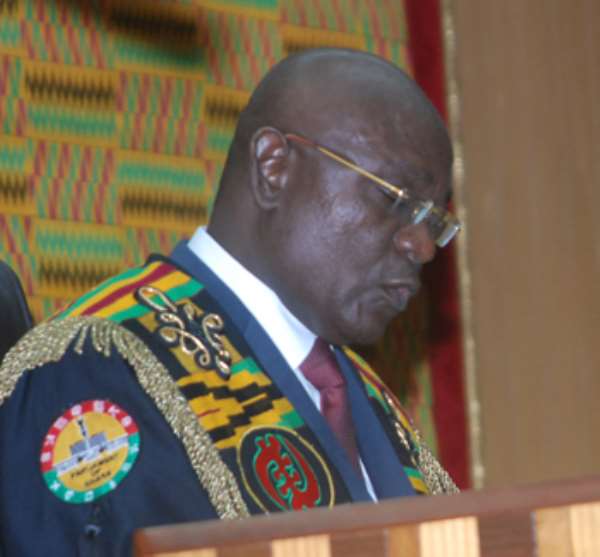 An anti-corruption crusader, Raphael Godlove Ahenu Junior, has noted that the Right to Information Bill which has still not been passed into law by Parliament makes citizens and civil society organizations have difficulty getting access to important documents and records to monitor and scrutinize public affairs.
Mr Ahenu Junior who is the Founder/CEO of Global Media Foundation, human rights and anti-corruption media advocacy organization said this has limited the opportunities for public to play oversight responsibility role.
He was speaking at community forum dubbed: District Accountability Forum at Maasu, a farming community in the Dormaa Central Municipality in the Brong-Ahafo region.
The forum was organized by Gifts FM, a local FM station in collaboration with Global Media Foundation (GLOMEF) under the Local Fm and Civil Society Promoting Revenue Management and Utilization for Development Project.
The 14 months project is being funded by STAR-Ghana with support from UKaid, DANIDA, EU and USAID at the cost of $50,000.
The forum was aimed at educating the citizenry on the need to honor their obligation as well as to demand accountability from duty bearers.
Mr. Ahenu said lack of transparency, absence of rule of law and corruption continues to be a problem for Ghana's social accountability.
According to him, in Ghana, democracy is virtually handicapped by the continuous dominance of political influence which does not formulate policies according to the needs and economic livelihood of the citizenry but are only centered on personal or party interest.
This, he noted has resulted in the lack of accountability on the part of citizenry in putting service providers and duty bearers to task.
In his presentation at the forum the budget officer at the Dormaa Central Municipal Assembly, Peter Nketiah noted various Assemblies in the country have done not enough to increase their internally generated funds.
He said it saw the responsibility of the Assemblies to educate the public on the need to pay tax and also explain to them how the monies generated are used for development.
He disclosed that the Dormaa Municipal Assembly last year mobilized GHc 321,000.00 as internally generated funds (IGF), received GHc 490,000.00 as District Development Fund (DDF) and GHc 100,000.00 as Urban Development Grant (UDG).
The funds, he said were used on 40 developmental projects including schools, CHIPS compounds, Boreholes, Scholarships, Security as well as paying of NHIS premium for 1000 needy and vulnerable people in the municipality.