Murdered Fidelity Bank staff, laid to rest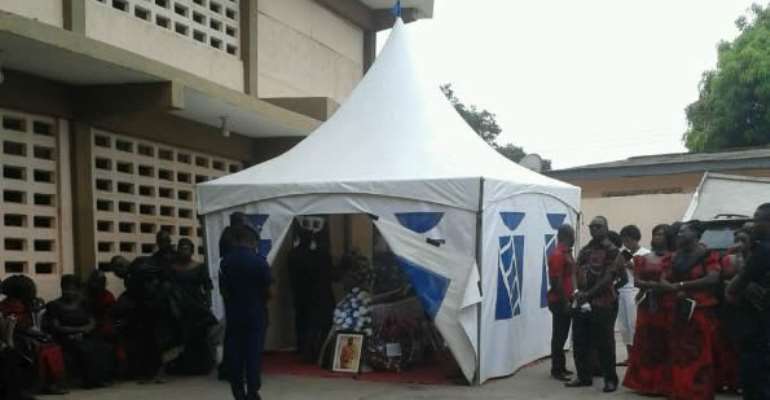 The 41 year old banker, whose life was callously terminated over Ghc 5,000 /news/2014/February-13th/couple-3-others-arrested-over-murder-of-fidelity-bank-staff.php has been buried after a ceremony organised at the Assemblies of God church in North Kaneshie, Accra.
Emamanuel Asante Akuffo who worked with the Adabraka Branch of Fidelity Bank, was survived by a wife,Mrs. Akosua Akuffo  and a daughter, Asabea.
He was on murdered on Tuesday 11th February 2014 by some men allegedly hired by his prospective landlord.
The landlord Boafo Daniels and his wife Juliet refused to pay back Ghc 5,000 after they failed to honour their promise of providing the deceased with accomodation.
They have since been arrested. They were alleged to have caused his death after three other suspects, who were in a Toyota RAV4 vehicle with registration number GT 1379 G, attacked the deceased with knife and a bottle in front of a drinking spot at Odorkor Tweneboah and robbed him, soon after he collected the money from David and Juliet. 
The funeral ceremony held Saturday, witnessed scenes of great sorrow as many filed past the body of the deceased - wailing,shocked,sobered by the gruesome murder of an innocent man known to be a saint. 
Staff of the bank were there to wish their departed colleague, a safe journey home.
In a tribute, her wife called him a "warrrior in the vineyard of the Lord, a man of few words, a very prayerful person and humble".
Emmanuel, she described was someone "who easily forgives and forgets" without "habouring bitterness".
On that fateful night, even before news of his death would reach her, their daughter Asabea was said to have began crying bitterly,suddenly and kept pointing to the bedroom window, screaming 'daddy,daddy' for reasons her mother could not tell. 
"I now understand by the event that unfolded that night" the wife said. Story by Ghana|Myjoyonline.com|Edwin Appiah|[email protected]