Gomoa-Dabanyin Outdoors Benkumhene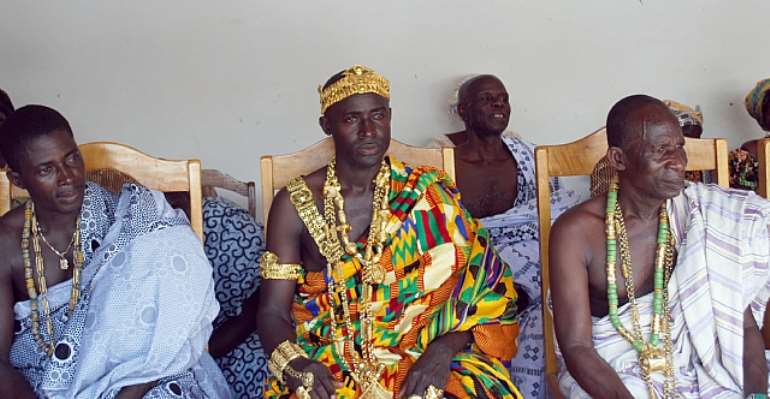 Barima Owusu Asar I
GOMOA- DABANYIN, a community of more than 1,000 inhabitants in the Gomoa East District of the Central Region was the centre of great excitement recently, following the elevation of Barima Owusu Asar I as Benkumhene of the traditional area.
The colourful ceremony which was witnessed by a large number of chiefs in the traditional area among other guests was under the chairmanship of the Omanhene of Gomoa -Ajumako Traditional Area, Obrempong Nyamful Krampa XI.
In his address, Barima Owusu Asar I urged the people to rally behind him in order to achieve the goals they have set for development.
He added that 'I am currently helping with the construction of a multifunctional community centre for the people and I pray for your active involvement for us to help our community.'
The Omanhene of Gomoa-Adjumako urged the Benkumhene to submit to the people so that he could win their support for any positive development agenda within the community.
The Odikro of Gomoa-Dabanyin, Nana Adan Amoh XII, congratulated the Benkumhene on his enstoolment.
The Odikro urged him to channel his youthful energies to help inject useful ideas to help transform the local traditional council and the community, in order to make it a destination of choice for indigenes and non- indigenes.
 By Solomon Ofori