B-BOVID Shares Profit With Farmers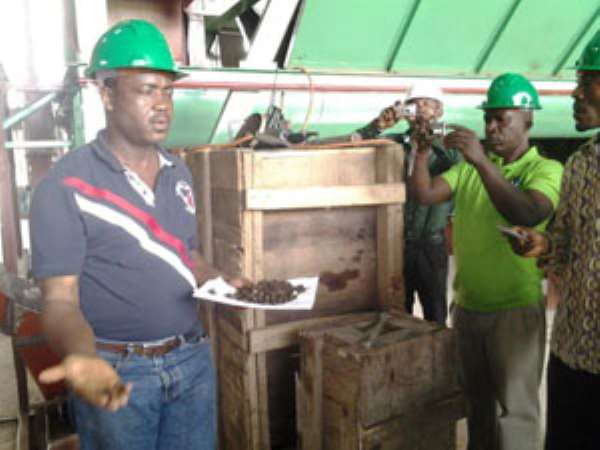 Issa Ouedraogo explaining a point to the media
Issa Ouedraogo explaining a point to the media
B-BOVID, an agribusiness based on social entrepreneurship, has introduced a unique profit-sharing concept which will greatly benefit local farmers and their communities.
The Chief Executive Officer (CEO) of B-BOVID, Issa Ouedraogo disclosed this in an interview with BUSINESS GUIDE at Pretea in the Ahanta West District.
He explained that farmers, who sell palm fruit to B-BOVID, would receive an end of year bonus from the business in addition to the market price for their produce.
He added that the bonus would be paid out of the profit made by the palm oil mill and would be based on the quantity supplied by a farmer to the company in that financial year.
'Profit sharing is an essential part of what we're aiming to do. We know that agriculture has huge potential to reduce poverty so if we can better reward the farmers who supply us with raw materials, then that contributes to improving their livelihood and that of their communities,' Mr Ouedraogo stressed.
He commented: 'We want to use the power of business to solve social and environmental problems through innovation and technology in agriculture.'
He told BUSINESS GUIDE that his business' new palm oil and kernel mill, which employs the latest technology from Malaysia and SAMENTEC, a Ghanaian Oil Mill Engineering body, was undergoing test runs and that it is scheduled to be in full operation by the end of this month.
He revealed that the company had established the country's first Information and Communication Technology (ICT) centre for agriculture aimed at building the capacity of small-scale farmers.
'The essence of the training is to increase the volume and quality of the farmers' produce through the introduction of modern farming techniques, environmentally positive farming, business management, marketing skills and access to market information.
Mr. Ouedraogo, who took journalists round his establishment at Pretea, added that to encourage farmers to consider diversification, his outfit had also set up a large alternative livelihood centre to educate farmers on biodiversity and organic agriculture.
'This site features a demonstration farm showcasing animal husbandry, aquaculture, as well as vegetable production techniques. The organization also runs a well-equipped agricultural mechanization centre which provides smallholder farmers with access to modern machinery at subsidized rates,' he noted.
 
From Emmanuel Opoku, Pretea