Congestion at Senchi ferry site eases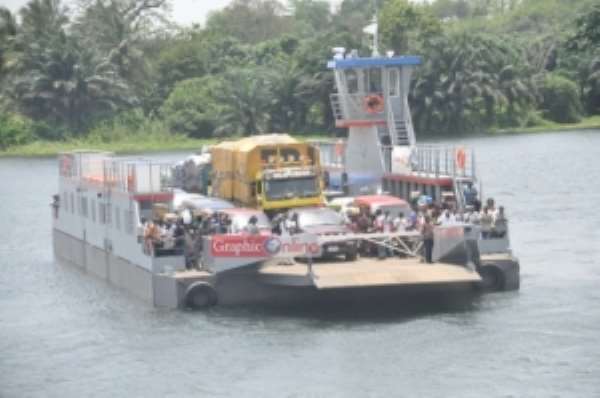 Drivers crossing the pontoon at Senchi now do it with more ease than when it was first launched two weeks ago as the heavy congestion which characterised the initial operations has eased.
The ease is also as a result of repair works carried out on one of the ferries which had been unable to carry its required number of traffic because of a landing problem.
Hundreds of travellers to and from the Volta Region through the Senchi and Akrade landing sites were reportedly stranded at both ends  on Sunday because of the landing challenge. 
At about 9:00 a.m. on Tuesday, when the Daily Graphic visited the Senchi site located in the Asuogyamang District in the Eastern Region, very few vehicles were in queue waiting for their turn to cross the Volta Lake on the ferry.
The supervisor on the ferry, Mr David Ofosu, said drivers spent between three to five minutes in a queue before getting on board to cross from Senchi to Akrade and vice versa.
Mr Ofosu attributed the reduction in congestion to two ferries operating at the same time.
The ferry service was launched two weeks ago following the closure of the Adomi Bridge linking the Greater Accra and the Eastern regions to the Volta Region. Problem on ferry was minor
According to Mr Ofosu, the recent problem on one of the ferries, which resulted in long queues, was minor and had to do with the berthing of the ferry and not a technical problem with the ferry itself.
He said the congestion usually occurred on weekends because of huge numbers returning from social activities such as funerals. 
He, however, said there were plans to contain the situation.  Revised rates
Officials of the Ghana Highway Authority (GHA) have revised the fee motorists have to pay to use the ferry.
 Individuals who were initially required not to pay are now charged 50 pesewas to cross the half-mile journey from Senchi to Akrade.
While some rates have been reduced, others have been increased.
Commercial mini-buses, for instance, now pay GH¢8 instead of the previous GH¢12. Meanwhile, some types of low loaders now pay GH¢95 instead of the earlier GH¢85.
Writer's email: [email protected]