TRIBUTE TO THE PARAMOUNT RULER OF ELE IN IJAW LAND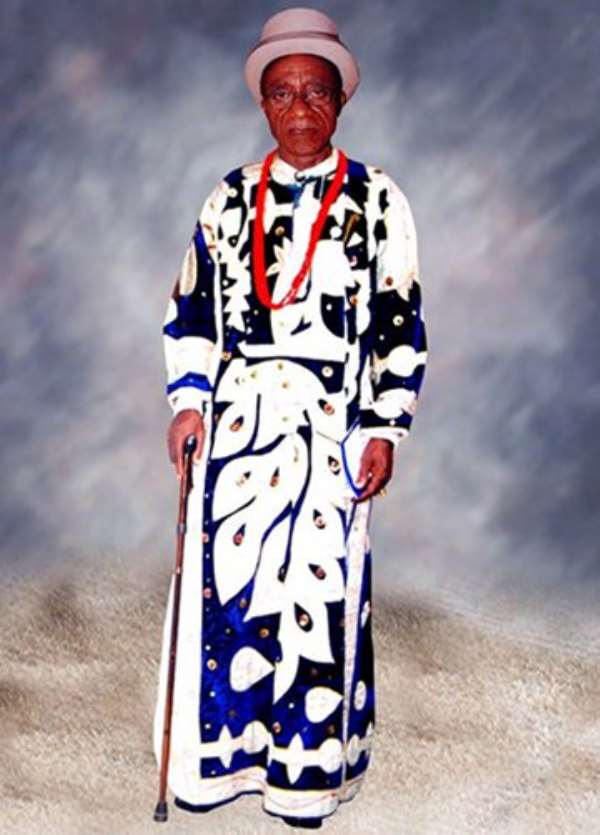 To everything there is a season, A time for every purpose under heaven: Ecc: 3v1.For the living know that they will die, But the dead know nothing, And Life is but a Pilgrimage of Mortals who after their sojourn on earth must return unto the Creator.
Exit of an Uncommon Patriarch. Final rites of Passage of His Distinguished Highness. Godpower Isaac Imbu, JP.
The Paramount ruler of Ele Town and notable Community leader in Wakirike Se ( Okrika Clan ), in Ijaw ethnic nationality . The late High Chief was buried on Saturday 15 March, 2014 in his home town Ele. Until his death he was the Chairman of Ele Council of Chiefs and former financial secretary of Ogu / Bolo Council of Chiefs in Rivers State, Nigeria, He was age 81.
BIOGRAPHY OF HRH GODPOWER ISAAC IMBU,JP
Late High Chief Godpower Isaac Imbu, Jp, was born on 24 December 1931 into the traditional Chieftaincy family of Pa Isaac Akein Imbu and Madam Deriapu Marian Imbu all of Ele Town in Oruchi family in Ogu /Bolo Local Government Area of Rivers State.
He was as humble as he was diligent in everything while on earth before the good Lord called him home to join his ancestor on Wednesday 4th July 2012. He was age 81. He was the Third child among the eight children of his parent.

EDUCATIONAL BACKGROUND
He attended St Martin School, Ogu 1944-55. From there, he proceeded to the famous St Paul Commercial College, Aba in Abia State 1955--57, being the first student from Ele and Ogu to attend the school.
WORKING EXPERIENCE
Late Chief Godpower Isaac Imbu, JP, on leaving his Secondary Education worked at the following places:
i) He worked briefly at Nkalagu Cement Factory in Enugu.
ii) In 1957-1970, he worked at the Nigerian Railway Corporations, Enugu. Shortly after the civil war he transferred his services into the Rivers State Civil Service and worked in the following Ministries:
a) Ministry of Establishment and Training (1972 – 1974).
b) Governor's Office (Political Division) 1974 – 1978.
c) Ministry of Social Welfare and Youth Development.
d) Government House (Admin. Department).
He retired from the Rivers State Civil Service in 1990, before venturing into private business. As a holder of a Diploma in Secretarial Studies, he became a proprietor of Secretarial Educational Centre, Port Harcourt, and also a Chief Executive Officer of Ikolobo Nigeria Limited, Port Harcourt.

AS A TRADITIONAL CHIEF
Late Chief Godpower Isaac Imbu JP was installed Chief of Imbu War Canoe House in Ele in the year 2000. His passion for giving back to his community began at a young age, and distinguished himself creditably as an active aboriginal and a tireless nationalist for the rights and survival of Ele peoples, a man who ready all time to risk chastiment on behalf of his people. On installation as Chief of Ele Community, he became the first Chairman of the Ele Council of Chiefs and also the first to be installed by the four units that make up Ele.
An ancient stool of the ancestral founding fathers of Ele Town, one of the city-states of Wakirikes in Ijaw Nation.
In 2005, he was the Financial Secretary Ogu/Bolo Local Government Council of Chiefs, and worked tirelessly for the up-liftment of the Council. The Chief never believed in doing things half-hazard, and was blessed with so much energy that he does his things himself and was very hardworking and trustworthy.
In 2009, during the Rivers State truth and Reconciliation Commission at the Diete-Spiff Civic Centre, main-bowl, Port Harcourt; he represented his community and spoke for its rehabilitation and compensation. He exhibited virtues of integrity, bravery and courage. He was a indeed quintessential community leader.

MARITAL LIFE
In 1968, he got married to a young beautiful woman, called Tanda, who is the daughter of a distinguished Paramount High Chief, Chief Bennett James Dukoni- Offiomani of Offiomani War-Canoe House, one of the original Main Group of Houses in Ogu Town.
The marriage was blessed with seven children-Three sons and four daughters. He also has brothers and a sister as well as in-laws. He has several nephews, nieces, cousins and numerous relatives.
He loved his wife, Children, Brothers, Sisters, relations and the entire Ele Community dearly and remained committed to them through-out his lifetime.

SOCIAL LIFE
The Distinguished High Chief was a Chieftain of Ijaw National Congress. He was also a pioneer agitator for the creation of Alamingi (Oil Rivers) State Movement. During his lifetime he served in the following areas: Secretary Okrika Union Enugu - 1964- 1967, Pioneer Secretary Ogu Town Union, Port Harcourt after the Nigeria Civil War under the leadership of Late Chief Dick Iruenebere, JP, Secretary Ogu Improvement Union Port Harcourt, member Ibise Age Group of Wakirike, and Member Wakirike-Bese Chiefs Council.

CHRISTAIN LIFE
Late Chief Godpower Isaac Imbu, JP, was a devout Christian and licensed lay reader in the Spiritual Kingdom Church of Christ (SKCC) until his death, he was a Spiritual Ambassador in the Spiritual Kingdom Church of Christ (SKCC).
Adieu, Alabo, Continue to rest in Perfect Peace. You are a High Chief Par Excellence, you led a fulfilled life.
Glory Be to God.

TRIBUTES

TRIBUTES TO MY BELOVED FATHER
Daddy your last words to me has always given me strength, but the vacuum your death has created in my heart and the family cannot be easily filled.
Daddy you were a man of integrity, an epitome of peace.
I will miss your smiles, loves, care, advice, understanding and words of encouragement. Your tender and gentle voice l will no more hear.
I miss you so much daddy. It pains me daddy you did not ripe what you sow.
Mrs. Salome Kpaniku (First Daughter)
TRIBUTES
Oh my sunshine, daddy, the dark night came the moment death struck took you away from me just like the speed of light. Everybody misses you even those that hated you. Why? Simple! Because apart from Christ Jesus, you were the only man that could lay down his life, fight and die for humanity .such a big-hearted, loving, caring and kind dad you were. A father who would let me choose and do my heart desire, though he never failed to advice me so l would always be on the right track.
I call you father of all nations handily fought and gained a settlement for his lost clan ELE. This alone is a demonstration of a man who is selfless and served his people no matter the consequences. You were indeed a great leader. You left a memorable legacy, l will follow suit.
I sure know and believed that you have gone to a better place, enjoying a new lease on life where pain and sickness do not exist. I miss you daddy. Adieu; rest in the bosom of the Lord.
Dango Imbu (Second Daughter)

Beloved Dad
We have lost a father of fathers; a father whose qualities cannot be measured.
He was a shining light to my family. May his kind and gentle soul rest in Perfect Peace.
Mrs. Christianah Karibo-Nelson (Third Daughter)

Tributes to my in-law
Daddy you received me as your Son from the first day I entered into your family.
Your sudden exit was a great shock to me. Due to the love and care you had for your children you denied yourself worldly things, but you died at the time you were to reap the fruit of your labour.
It is true I cannot question God but I have learnt to accept his will. You are a gem, you are gone but never to be forgotten, your legacy will still live on.
Christopher Kpaniku (Son-in-law)

Good night Beloved Father-in-law.
I must be thankful to Almighty for granting me the privilege of having a wonderful and beloved father-in-law who gave so much but asked for nothing in return.
He was a man of Principle and I have no recollection of his ever being angry or ruffled. These were and remain his most cherished attributes which he would no doubt recommend to his grand-children. He did not relate with me as an in-law. He showed love to me. This is a rare attribute in a one's life.
I love you so much and will dearly Miss you, however, God loves you most.
Nice in-law, good night. Rest in Perfect Peace.
Jinbobaraye Karibo-Nelson, SIPM, FECRM.
(Son-in-law)

Grand Daddy
Grand dad, you were a great man, a daddy to all of us. We will greatly miss you. May your gentle soul rest in Peace.
Ibinabo Karibo-Nelson (Grand-Son)

Tributes
A man of Honors, father who cared, a unique gift from God.
You're naturally irreplaceable, you're memory remains evergreen.
You had smiles that gave me courage. I became your pet, but now you are gone and hope to return back to a place "Paradise". But for now, we have placed you to be with God.
For you were a great Man on earth, my loving father, Teacher, Friend.
A tribute l writes to say good Bye, O
Juanita Membere. O (Grand-Daughter)
HAI, THE BEAUTY OF ELE
Town has been stained upon the high places,
How are the mighty fallen?
You have gone to prepare a beautiful home for us,
You lead us to our side, not yet ended.
With God, on our side, we will fight and WIN the battle.
Bye- bye.
Sample I.Iyalla (Cousin)


GOOD BYE BELOVED UNCLE & FATHER
His demise in the family has left a vacuum in the minds of all who know him and love him because he is a symbol of Love and encouraging. He is call father because of his advices and love.
His comfort of advices that whether the world like it or not Christ and Edidem the King of the Gentiles are ruling the world. Even though we mourn the passing away of our beloved Uncle, Father, we thank God Almighty for the good legacy, of hard work, honesty and transparency of life in the Church in the family and in the community. What more can l say? Uncle I miss you, rest in the bosom of the Almighty God of Edidem.
SP/AMB Godknows T.B.Imbu (Nephew)

TRIBUTES
You entreated me as a brother, though an in-law. Severally, you advised me to eschew retaliation. When wronged, for vengeance is God's exclusive right to power.
Epitome of an anointed leader, your righteously Sheppard Ele aborigines to reality.
I cherished your unmundaned desires in which you manifested trustfulness, Love and purity, a virtue your distracters could not comprehend.
Your obedience to God's call is in fulfillment of God's immutable laws for every mortal to obey. I wish you Heaven at last.
Elder James B.Dukoni ,JP.
TRIBUTES
May his Soul rest in Peace?
SP/AP Ntiego Davis (SKCC, PHC)
Daddy Sleep in the Lord.
Dawuta Ikobirima


Tributes
The Lord understands. May you be comforted in the Mighty name of Jesus Christ.
Elder Dennis A. Dago

Tributes
This departure is not only painful but too sudden to go with. since we can't question God, we give Him thanks for whatever that happen. May the good God continue to keep the family in the hands of God- and our Lord Jesus Christ. Amen
Hon, Sir.F.B. Green, JP. (Fmr Vice- Chairman PHALGA)

Tributes
Ambassador for Christ Rest in perfect Peace. M/M Caroline A.T.Gabriel

Tributes
God has received you into his fold for role played while on earth.

Elder Daju E. Atamuno.
Dear Chief, I was surprise when l heard the fall of a Hero, May your Soul rest in the bosom of the Lord.
Chief Nicodemus Kalaiyo-Oruwari.

Tributes
My Beloved Patriotic Chief, the legacy you left behind will continue to blossoms into greater height in Ele Clan in Okrika nation.
Chief T.F. Orafiri-Elenidappa, 11 (Vice chairman, Ele Council of Chiefs)
This Tributes was sent by Jinbobaraye Karibo-Nelson, SIPM, FECRM,
Son-in-law, Social Commentator, Security Analyst and Senior Member Nigerian Institute of Public Management from Ogu Town, Rivers State, Nigeria