Prof. Daniel Buor off to confab in USA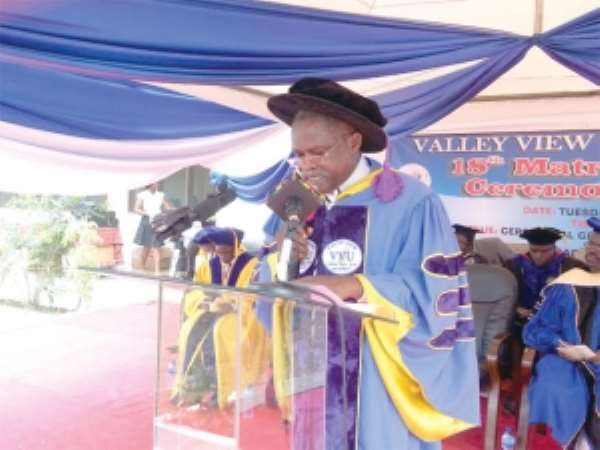 Prof. Daniel Buor, the Vice Chancellor of Valley View University, Ghana's premier private university, left Accra on Sunday  for the United States of America (USA) for a four-week official visit.
While in the US, Prof.  Buor will first attend a training programme organised by the Department of Education at the World Seventh-day Adventist (SDA) church headquarters at Silver Springs, Maryland, for vice chancellors and presidents of Adventist colleges and universities around the world.
 One hundred and twenty heads of Adventist higher institutions are expected to attend the programme which focuses on institutional management to help them to improve upon their effectiveness and efficiency.
The leaders will be taken through leadership skills and processes of institutional accreditation.  There will also be a panel discussion by selected leaders including Prof. Buor.
A statement issued by  Pastor Joe A. Hagan, APR, acting Deputy Registrar, said Prof. Buor would give a talk on the ecological concept of Valley View University. He will also attend a meeting of the Association of American Geographers to be held in Tampa, Florida, where he is expected to present a paper on HIV/AIDS in Ghana.
His last engagement will be at the State University of New York where he will discuss collaborative issues and seek logistics support for the university.
He will return home on April 17, 2014.
The Pro Vice Chancellor, Prof. Phillip Maiyo, will act as Vice Chancellor while the Dean, School of Graduate Studies, Dr Daniel Bediako will act as Pro Vice Chancellor.