MCA II for energy, micro-business processes underway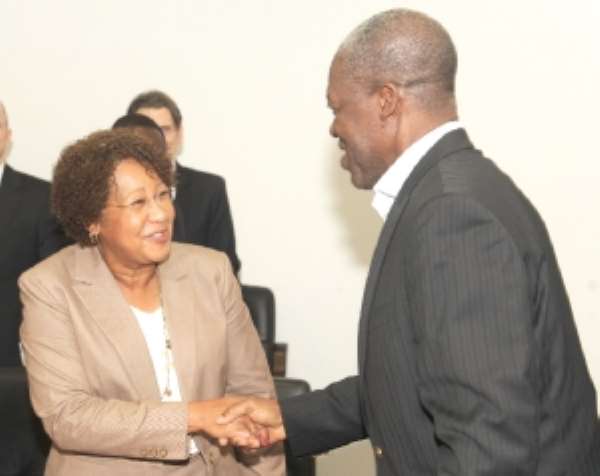 Processes have begun for Ghana to benefit from a second Millennium Challenge Account (MCA II) compact from the United States of America, with the energy and the micro-business sectors penciled for massive financial support.
Ghana is one of few countries to benefit from the Compact II which has energy and access to credit as the two major components.
 
Partnership
The Partnership for Growth Steering Committee, led by the Deputy Chief of Mission at the US Embassy, Ms Pat Alsup, conferred with Vice-President Kwesi Bekoe Amissah-Arthur on the progress the committee had made towards the MCA II at the Flagstaff House yesterday.
The committee comprises Ghanaian and US officials who are working on a road map that would see to the final signing ceremony of the compact scheduled for Washington around August this year.
Ms Alsup told the Vice-President that the two sides had been holding fruitful discussions on the compact, and noted that the concept of partnership was most important, since it was not all about Ghana receiving funds but rather to the good of the two countries.
 
Controlling government spending
Responding, Mr Amissah-Arthur said the meetings between the two sides had led to substantial support for Ghana, although the country had been facing some macro economic difficulties.
He told the delegation that the government was working hard to restore the macro-economic balance, and stressed that the path of adjustment chosen had not brought about the desired results.
"International economic arrangement has not worked in our favour as commodity prices shot up," the Vice-President averred.
He explained that the government was now looking at efficiency in government spending in order to make savings for the completion of stalled projects, adding that government projects were also being prioritised to attract the necessary investments.
The Vice-President was confident that those decisions would result in a "stable and predictable government wage bill."
 
Finance minister
The Minister of Finance, Mr Seth Terkper, told journalists that the joint steering committee under the partnership for growth which met every six months was formed last year.
He said a board for the committee would be set up in June this year to discuss the modalities including the amount to be disbursed under the MCA II.
Mr Terkper observed that small and medium enterprises would receive a boost through the Natonal Board for Small Scale Industries (NBSSI) and other affiliated state organisations.
 
Writer's email: [email protected]