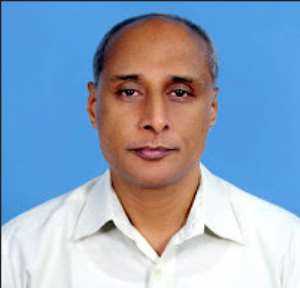 The Global Diabetic Foot Conference (DFcon 2014) concluded earlier this week in Los Angeles US. Citizen News Service (CNS) had an opportunity to interact with one of the key faculties and experts on Indian approach to saving the limb for people who are living with diabetes. Dr Ajith Kumar Varma is a Professor and Diabetic Lower Limb and Foot and Ankle Reconstructive Surgeon, in the Department of Endocrinology, Diabetic Lower Limb and Podiatric Surgery, at Amrita Institute of Medical Sciences and Research Centre, Kochi.
'Karma', as explained in ancient Indian scriptures refers to the principle of cause and effect, action and reaction, resulting in merits and demerits. It may be due to our collective 'bad karma' that India stands second in total population of people living with diabetes world-wide. Today in India there are over 45 million patients of diabetes and an estimated 50,000 amputations occur every year due to diabetes related foot problems. Diabetes results in nerve damage and poor blood supply to the foot, giving rise to various deformities of the toes and feet. This causes areas of raised pressures in the soles of the feet, where ulcers develop. These ulcers act as portals of entry for bacteria leading to serious infections, which in the immunocompromised patient can result in amputations or even death.
The commonest cause is the infected neuropathic foot, which is potentially preventable. 70% of the population in India lives in the rural area and 40% stay in one-room tenements. Inadequate sanitation, improper foot offloading due to lack of facilities and awareness are common. Rat and insect bite; vigorous massage; thermal injuries due to hot fomentation; injuries due to improper footwear; and inter digital fungal infections are some of the factors that cause diabetic foot injuries in India, which can result in limb and life threatening extensive necrotizing fasciitis and other soft tissue and bone infections of the lower limb. In India, medical insurance is almost non-existent, especially in rural areas, and the vast majority of patients with diabetic foot problems have to pay for the cost of medical care. Hence the cost of treatment and consumables used assumes much greater significance in such circumstances.
There are very few organized diabetic foot screening programmes and podiatric services are available only in major centres in India and even there a multi-disciplinary team approach is mostly lacking. Proper diabetic orthotics is not easily available. Socio-economic factors like barefoot walking, inappropriate footwear usage, and lack of awareness on the seriousness of diabetic foot problems amongst doctors and patients (and hence late reference to specialty centres) are matters of grave concern. Team effort is vital in the management of diabetic foot problems. With a comprehensive team work, the department of Endocrinology, diabetic lower limb and Podiatric surgery, Amrita Institute of Medical Sciences has been able to maintain a lower limb salvage rate of 91.5% in diabetic foot problems. As per International Diabetic Federation statistics, India and other developing countries have a major amputation rate of 45% in diabetic foot problems.
Indian style Charcot foot reconstruction
The Charcot foot and ankle occur due to autonomic neuropathy. Presently the main cause of this condition is Diabetes Mellitus. Although there have been numerous advances in surgical techniques to salvage fusions of the foot and ankle during the past few years, many of the adaptations involve the use of internal or external fixation devices to stabilize the bony construct while awaiting consolidation. These devices include screws, plates, intramedullary nails, and external fixators. In improperly treated Charcot's foot in the early stages, severe destruction of the foot and ankle bones occur, as they become weak, soft and brittle. When the patient walks on such type of foot bones, these fracture, erode and finally collapse.
The use of internal fixation and some forms of external fixation, however, may not be possible or optimal in osteopenia and osteoporosis as the foot bones are too soft to hold this hardware and after surgery, when the patient is ambulant, eventually the screws work loose and re-collapse of the foot bones occur. This can result in major lower limb amputations. It is the general experience of foot and ankle reconstructive surgeons worldwide, who routinely deal with this condition, that long term results of such surgeries are not very encouraging. Moreover, as many studies have shown, pin-tract infections associated with external fixators are as high as 25% to 100%. If this were to happen in a person with diabetes, it may result in disastrous consequences.
To obviate this problem podiatric surgeons at Amrita Institute of Medical Sciences and Research Centre, Kochi, India have devised the novel 'the Amrita Sling Technique' of fixation and stabilization of the foot and ankle in deformed Charcot arthropathy. Over 400 such surgeries have been performed at this Institute during the last seven years with excellent results. Sometimes, the foot and ankle bones in Charcot's disease are so extensively damaged, that conventional reconstruction becomes impossible, and a below knee amputation the only solution. To prevent these amputations in such severely destroyed foot bones the doctors at Institute have devised a technique of replacing these bones with artificial prosthetic bones made of polymethyl methacrylate (PMMA). More than 200 such PMMA foot bones replacement prosthesis surgeries of forefoot, mid foot and hind foot bones have been done with excellent results and without any complications.
Both 'Amrita Sling is Technique' and 'PMMA foot bones replacement prosthesis' are a 'first' in the world, which have been developed and perfected in the Department of Endocrinology, Diabetic Lower Limb and Podiatric Surgery, Amrita Institute of Medical Sciences and Research Centre, Kochi, India.
Thus dedicated surgeons and researchers are trying to overcome the bad karma of diabetes with the good karma of healthcare for patients with diabetic foot problems with a very high rate of success.
Shobha Shukla, Citizen News Service (CNS)
(The author is the Managing Editor of Citizen News Service - CNS. She is a J2J Fellow of National Press Foundation (NPF) USA and received her editing training in Singapore. She has earlier worked with State Planning Institute, UP and taught physics at India's prestigious Loreto Convent. She also co-authored and edited publications on childhood TB, childhood pneumonia, Hepatitis C Virus and HIV, violence against women and girls, and MDR-TB. Email: [email protected], website: www.citizen-news.org)