I am ready to defend MPs' bribery claim - Bagbin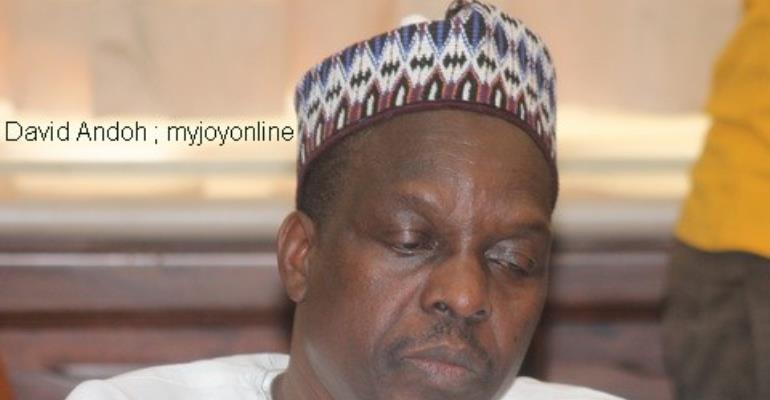 Former Majority Leader in Parliament, Mr Alban Sumana  Bagbin, has stated that he is ready to appear before the Privileges Committee of Parliament or the Leadership of the House to defend his statement that some members of the house take bribes.
He said he would be ready to provide evidence to the committee or the leadership for their perusal.
Reacting to calls by some members of Parliament (MPs) for him to be summoned before the House to prove the allegation, Mr Bagbin told Radio Gold, an Accra radio station, "I will definitely be providing evidence for the leadership or the committee to look at."
At a two-day seminar in Koforidua for representatives of 40 non¬governmental organisations NGOs), Mr Bagbin had alleged that some MPs took bribes in the performance of their duties.
The workshop was organised by the Business Sector Advocacy Challenge (BUSAC) Fund, a donor-funded organisation which seeks to promote an enabling environment for the development and growth of the private sector through advocacy, and STAR Ghana, another organisation promoting governance advocacy.
Prior to their arrival at the conference, some participants who had dealt with some of the country's legislators had alleged that they had paid bribes to MPs to carry out their law-making functions.
The participants added that they had been compelled to pay the bribes when it became clear that the MPs were not filling to move in the direction they (the participants) expected them to unless some "brown envelopes" changed hands.
Following the allegations by Mr Bagbin, some MPs made calls for him to be dragged before the House to substantiate his claims.
I won't play the ostrich
In a telephone interview from France where he is attending a conference, Mr Bagbin said he would not play the ostrich nor deny the obvious.
"Unless they want to say that I should have denied the obvious or speak untruths. I am not that kind of person. There's no way I'm going to lie through my teeth to the civil society participants as to what is happening in Parliament. I won't do that," he said.
"The questioner from civil society, together with his colleagues, was producing evidence of how some MPs compelled them to offer them bribes before they did work for them in Parliament," Mr Bagbin said.
He explained that he conceded that some MPs took bribes but said: "I never stated all MPs. I said yes, some MPs, from the evidence that they produced and from what we all know, would be prone to taking bribes  before doing work, and then I gave explanation of the conditions under which we work in Parliament.
Evidence
When "asked whether he would stand by his claim that some MP bribes, Mr Bagbin said, "My nature is not to lie. That's not part of my nature and so I will not only appear, I'll go with what I believe is the evidence. I am not just going to appear and t run away from it."
When asked if he had heard a MPs taking bribes for the first time at the seminar, he answered in the negative.
"No, that was not the first time. This thing has been on for some time have been in leadership for a long time and we have had to deal with it a number of times. It came on air a number of times. There were even some letters that were read by your media colleagues on some of the: allegations," he said.
Angels of Parliament
He said that as a country, Ghana would have to confront the issue find lasting solutions to it by put place policies.
"We don't have to run away from problems or challenges. We need find lasting solutions to them. That is what policy is about and as you get feedback you review it to improve. If we keep running away from challenge then they will keep haunting us," Bagbin said.
On the claim by some MPs the allegation was an indictment, he said "Well, let the angels of Parliament speak that they are above reproach. And let us all behave like ostriches. It is not good for us as a country. We have all been bemoaning the problems that have been confronting Parliament. What is wrong with coming out coming out openly to raise the issue for us to deal with it?"