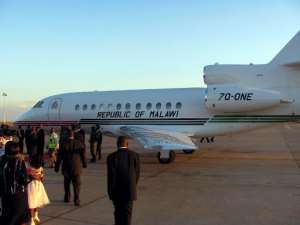 A picture taken on May 14, 2012 shows Malawi's presidential jet arriving at Kamuzu International Airport in Lilongwe. By Amos Gumulira (AFP/File)
Blantyre (Malawi) (AFP) - Malawi used $15 million raised from the sale of its presidential jet to clear debts to an arms group, not to partly buy food for the poor as President Joyce Banda claimed, the finance minister admitted Wednesday.
"Actually, no single kwacha came to Malawi," said Maxwell Mkwezalamba, confirming speculation that the central bank had not received the funds.
With her administration under a graft scandal cloud, Banda on Tuesday had declared: "It was me who said let's sell the jet and the cabinet agreed three things to benefit Malawi... to buy maize, buy military equipment such as patrol boats and pay for peacekeeping mission in the DRC," the Democratic Republic of Congo.
Some of the "money was also used to buy medicine and fertiliser which was loaned to farmers", she told reporters.
But Mkwezalamba said the funds were used to pay Malawi's debts after the jet was sold to a subsidiary of South African arms firm Paramount Group, Africa's largest private defence firm, on July 29 last year.
"The Malawi government owed Paramount Group $19.2 million in respect of military equipment and asked the buyer of the jet to channel the money to the group as debt repayment after seeking legal advice from the attorney general."
It was agreed that the subsidiary that bought the jet, Bohnox Enterprises Limited of the Virgin Islands, instead pay Paramount "part of the arrears" owed.
Funds were then re-allocated to the Malawi defence force to buy the maize, medical drugs and military equipment.
Fears had been raised that the jet sale proceeds may have been embezzled.
Banda's administration is under scrutiny after government was rocked by a $30 million graft scandal -- the biggest financial scandal in the country's history.
A damning audit last month revealed that corrupt officials had stolen at least that $30 million from state coffers -- the equivalent of more than one percent of GDP in one of the world's poorest countries.
The theft occurred over six months last year.
The jet had been bought by Banda's predecessor, Bingu wa Mutharika, who died from a heart attack in 2012.
When she took over office, Banda introduced a raft of cost-cutting measures and uses commercial airlines to travel outside the country.