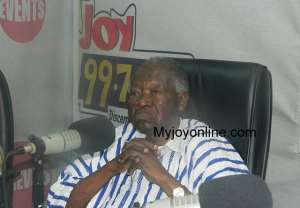 Elder statesman, Mr. K.B Asante says Ghana's hope of having free senior high school (SHS) education could pass as a hoax, if issues relating to quality of education are not addressed.
His comments came hours before president John Mahama performed a sod-cutting ceremony in the Eastern Region to mark the beginning of the construction of 50 new community day senior high schools  (SHSs).
The 50 schools form part of a total of 200 senior high schools set to be constructed in communities across the country, in fulfillment of president Mahama's campaign promise. It is in furtherance to government's efforts to make education progressively free at the senior high schools from the 2015/2016 academic year.
However, Mr. K.B Asante says it will only require a miracle to make education free at all levels of education.
"I am a socialist and I believe that eventually...every citizen should have an innate right to be educated to the best of his ability. But I am also a realist ...we cannot afford free education at all levels," the retired diplomat stated on the Super Morning Show on Joy FM, Monday.
"I do not believe that even in five years' time you can have free SHS [senior high school] education...if you got a windfall from the moon perhaps you can do it but as it is now, I don't think we can do it," Mr. Asante stated.
School autonomy Former Rector of GIMPA, Prof. Stephen Adei, who was also a panelist on the Show, maintained that quality can only improve if management of public schools are given autonomy and are highly motivated to give off their best.
He said head teachers must be supported to adopt systems that would aid teaching and learning and also be allowed to hire teachers, who have the requisite skills to handle subjects.
Prof. Adei, who is currently a professor of Economics and Leadership at the Pentecost University College also said teachers in public schools, who have gained notoriety for scoring zero percent at final examinations, should not be paid.   
"People must be held accountable; you have schools scoring zero percent [WASSSCE] for three years and teachers are being paid," he noted.
Closing the gap between rich and poor Prof. Jerome Siau Djangmah of the Forum for Education, is alarmed at the widening gap, in terms of performance, between public and private schools in the country.
According to the retired educationist, study conducted by the Forum revealed only 20% of senior high schools in the country produce 70% of students, who qualify for admission into tertiary institutions.
Prof. Djangmah therefore called for rigorous measures from government to ensure that brilliant but needy children get equal access to education as their colleagues from wealthy homes, to breach to yawning gap.