KATH Inaugurates modern eye centre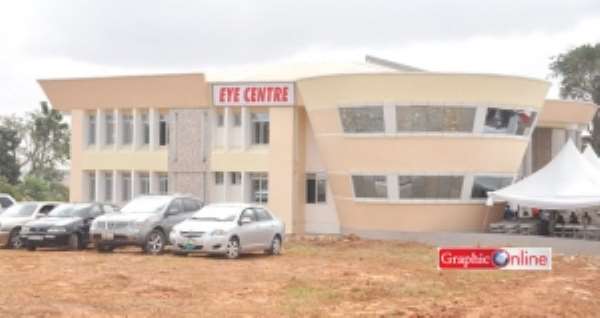 A modern eye centre at the Komfo Anokye Teaching Hospital (KATH), established at a cost of GHc4 million, was inaugurated in Kumasi Tuesday.
The centre has been designated as a facility for eye surgical training in West Africa. 
The two-storey building, with a basement, has a theatre complex with five operating tables, as well as a 50-bed ward, a spacious out-patients department, training and lecture wings, a diagnostic section, consulting rooms, among others.
The centre was financed by the United States Agency for International Development (USAID), the Himalayan Cataract Project (HCP), Orbis International and the Church of Jesus Christ of Latter Day Saints, with KATH providing counterpart funding from its internally generated funds.
The key eye activity to be undertaken at the centre is general ophthalmology, with sub-speciality clinics for retina, paediatric ophthalmology, cornea and external eye, glaucoma and oculophastics. 
Others are ophthalmology surgery, argon and Yag Laser procedures. 
There will also be eye investigations and imaging through visual field testing and eye ultrasound scan. 
The rest are outreach and residency training programmes in ophthalmology. Distribution of health officials
Inaugurating the centre, the Minister of Health, Ms Sherry Ayittey, expressed concern over the overly concentration of health workers, especially ophthalmologists, in Accra and Kumasi, at the expense of other regions.
she said there was not a single ophthalmologist in the Upper West Region.
Ms Ayittey urged the Ghana Health Service to ensure that ophthalmologists and other medical personnel, especially were evenly distributed, so that taxpayers living in other regions and deprived areas would benefit from quality health care.
She said the vision of the government was to ensure that the 74 ophthalmologists in the country were increased to the extent that at least each region would have five and later provide every district hospital with such specialists. Land for expansion
The Chief Executive Officer of KATH, Prof Ohene Adjei, said the new eye clinic had been designed to address most of the problems the teaching hospital had been facing and the lack of ophthalmologists in the northern half of the country.
He said the dream of KATH was to quickly grow the centre into a sub-regional centre of excellence in eye care services, training, research and promotion of outreach services to under-served communities.
He made a passionate appeal to the minister to ensure that the adjoining land to the hospital, which belonged to the military, was released to the hospital to help drive the transformation of the KATH Eye Centre into an environment more conducive for the delivery of clinical services.
Prof Adjei was of the opinion that the Ministry of Health should reward KATH for using its internally generated funds prudently, without having to rely all the time on the government for assistance in solving critical problems.