Mechanics Bow To Pressure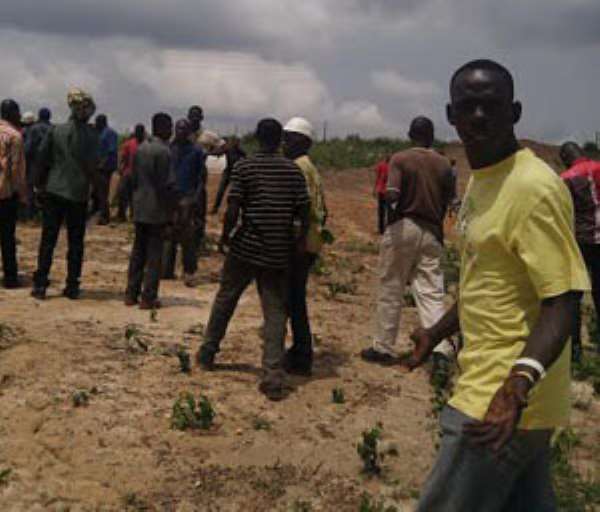 Some of the mechanics at the new site
DAILY GUIDE has gathered that the Tanokrom mechanics who initially refused to relocate from their present site near the Takoradi Jubilee Park in the Western Region, have finally succumbed to pressure.
The mechanics were being ejected from the site to pave way for the construction of a shopping mall by a South African investor.
Information reaching DAILY GUIDE indicates that the over 2,000 mechanics and artisans agreed to relocate after the Sekondi-Takoradi Metropolitan Assembly (STMA) had agreed to provide the basic facilities being demanded by the artisans at Kansoworodo, the new site.
The paper learnt that the decision was arrived at during a stakeholders' meeting held recently, which was attended by the Member of Parliament (MP) for Effia, Joseph Cudjoe, representatives of the artisans and the STMA as well as the land owners of the new site.
According to the Effia MP, the artisans agreed to move from their current site to the new location latest by Wednesday, February 26, 2014.
Speaking to Skyy Power FM in Takoradi yesterday, the MP revealed that at the meeting, the assembly agreed to give the needed facelift to the new site to enable the mechanics operate effectively and comfortably.
He indicated that in the interim, certain requisite amenities would be provided before the artisans would move to the new site on Wednesday.
He said that the assembly also agreed to provide the three-phase transformer being demanded by the artisans for their effective operations adding, 'The road leading to the area will also be upgraded or widened before Wednesday'.
He indicated that the South African investor, Western Development Consortium Limited (WDCL), also promised to provide forklift and load-bed trucks to help convey the containers and other structures of the artisans from the Jubilee Park area to the new site, which is about 14 kilometers from Takoradi.
According to the MP, the artisans maintained that they would like the leadership of the Garages Association in the area to see to the allocation of plots to them, warning that they did not want any interference from the assembly or any quarters.
The mechanics staged a massive demonstration last Thursday, and presented their petition to President John Mahama through the Western Regional Minister, Ebenezer Teye Addo, after their refusal to relocate had caused the demolition of their structures.
The Mteropolitan Chief Executive of Sekondi-Takoradi, Capt (rtd) Anthony Cudjoe, addressing journalists, revealed that the artisans and mechanics were squatters and that the area was not earmarked for the establishment of light industries.
Peter Kow Obosu, a contractor with Peekob Company Limited, which is said to have been contracted to construct the shopping mall, reiterated that the new site would have water and electricity supply, place of convenience, roads and sites for a training school, among other facilities.
From Emmanuel Opoku, Takoradi