We live in a state of hopelessness - Minority asserts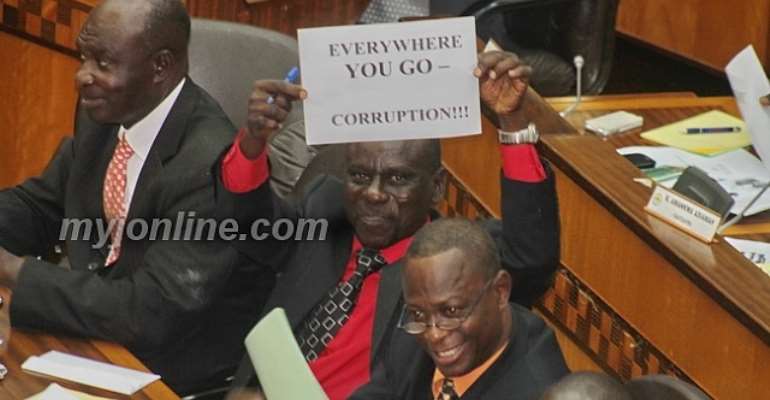 The members of New Patriotic Party (NPP) Minority in Parliament are disillusioned with the Mahama-led administration as they expressed lack of hope in the economy.
The MP for Atwima Mponua, Isaac Asiamah, who echoed the Minority's assessment on the government, told Joy News that Ghanaians are in a "state of hopelessness".
He recalled that most of the promises made by the government to improve the state of the nation have not been fulfilled. This, he claimed, is evident enough to prove that "there is no hope" for Ghana,
Though he was not specific, Mr. Asiamah maintained that all indicators, as well as available facts and figures support his conclusion.
The living condition of Ghanaians keeps "deteriorating", he said, adding, the situation has been compounded by water crisis and high school fees among other issues.
President John Mahama is expected to deliver the mandatory State of the Nation Address to Parliament on Tuesday, February 25, 2014.
But judging by the present living conditions of Ghanaians, the MP doubts President Mahama would be "bold" to address the law-making body tomorrow.
In his view, John Mahama is the "worst president" Ghana has ever produced.
The MP, like his colleagues, was riled by the failure of the government to make payments to the MP's Common Fund. The government is yet to release funds for the second quarter of 2013, he pointed out.
Mincing no words, Mr. Asiamah also described the Finance Minister, Seth Terkper, as the "most incompetent finance minister" in the history of the country.
 He said Mr. Terkper was not qualified to head that ministry, and was therefore not convinced he would be able to deliver the country from the current economic doldrums.
Adding to concerns raised by his colleague, MP for Sekondi, Papa Owusu-Ankomah told Joy FM's Top Story that Ghana's economy is in crisis, and challenged government to admit it.
He therefore wants the government to take a "very bold and bitter measures" to tackle the challenges facing the economy, adding that consensus building is the surest way of improving the situation,
Countering the Minority's arguments, Deputy Information Minister, Felix Ofosu Kwakye said it is not "entirely accurate" to say it is the first time a statutory payment has been delayed in the country. He made reference to an instance where payment to the GETFund was delayed for two years, when the NPP was in power.
 He admitted that even though some payments have been made, there are some outstanding ones to be cleared.
He also mounted a strong defense on behalf of the Minister of Finance, stating that he is better than the Finance Minister, under the NPP administration, who made a "tragic error" by going to a hair dressing salon abroad to contract a loan.
The Deputy Minister chided the Minority for not being able to "rise above party politics" but constantly predicts doom for the country.