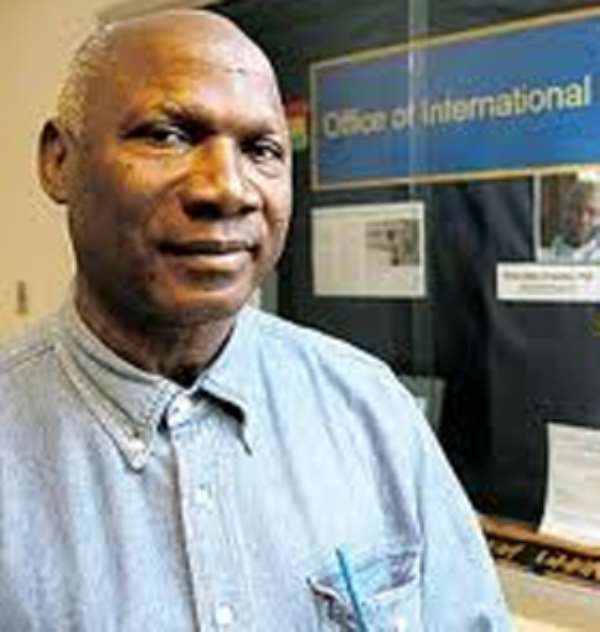 Brain has met brawn and the battle is enjoined. Afa ne afa reko ooo ei Kwaku Ananse would battle cheer in this brain-brawn brawl. Brain has erected its toll booth and brawn has gone to tear it down. It is a sign of troubling times.
It is very, very troubling. It is troubling when that which is supposed to enforce the law so flagrantly and violently violates the law. The shock is without end if it is a national security agency charged with protecting everyone moves a bulldozer at one o'clock in the night on a Monday to go and tear down a toll gate and security post mounted by a physically harmless institution such as a university.
It is difficult to find one piece of extenuating circumstance for the destructive act reading a Graphiconline story of February 08, 2014 more than one week to the bulldozing, headlined: 'Legon has power to charge tolls - Tetteh Chaie.'
The source of the story is no less a person than the Vice-Chairman of the Parliamentary Select Committee on Roads and Transport.
The Vice-Chairman makes reference to a number of legal provisions that allow the University to undertake an action such as the toll collection.
He cited at least four sections of the University of Ghana Act, Act 806 of 2010. I am sure an intensive search of both the 1992 Constitution and other pieces of legislation would strengthen the University's empowerment.
There was a time I tried through text messaging to draw attention during a radio discussion that the university is a municipality which makes by-laws to run its services and facilities efficiently.
I felt some very committed public advocates, who empathetically worried about the consequences for sections of society, including students, needed more facts.
For lawmakers and lawyers, for that matter, who jumped (in my opinion) into declaring the action illegal, I felt uncomfortable. I thought they needed to do more research before commenting on the issue on radio.
Anyone who reads here that I am in favour of the University's action would be shocked by the contradiction.
They would probably understand the position I have taken if I were to remind all about the obstacles people, big and small, especially under our current national leadership, have placed in the path of the development of the community I lead in my attempts to implement projects.
If I am seen as contradicting myself, it is because I believe no one is perfect and that a society such as ours should never have its development stalled or frustrated by inaction. I have seen and lived a lot of positive action in the last three years in the university.
I have experienced a number of intellectual actions actualized. And I have seen physical development. Hostile roads are now drivable.
My number one take is that a public entity in this era of corruption at the highest public places one can think of, a public entity has taken a loan and actually used the loan for the purpose it was contracted. Against my father's wise counsel that you should not borrow money to buy food to eat, the universities have been borrowing to pay wages. So, to me, it cannot be wrong to borrow and invest for as long as the money borrowed does not go into someone's pocket or some people's pockets.
I am sure not many of my compatriots would testify that the huge amounts of money that have been borrowed to cause the value of the cedi to decline have been used for the purposes for which they were borrowed.
How many times have we not heard about loan for this corridor road and that corridor road being raised? And how often don't we hear about loans contracted for the construction of schools, hospitals, potable water which still cannot be found anywhere?
A number of my compatriots are taking the night operation as cowardice. In using their power without informing the university community, they have lost any moral authority to have acted in that manner. Someone should tell someone that we are no slaves to any 64 or whatever battalion.
Like it or not, brain will triumph over brawn. That is the way it is written and it is the brain which writes and not brawn. Any security person who wants to succeed must learn to effectively use the brain. The brain drives effective security operations.
If security is about public nuisance then stop first the life-threatening church noise making. The nuisance excuse for tearing down a structure is a farce because the University had started implementing traffic jam mitigating measures.
Some of my compatriots will see this piece as a characteristic unbecoming of an mmɔborɔwa advocate.
It is about development without officialdom impunity and corruption.
By Kwasi Ansu-Kyeremeh