Komla Dumor Was Service-Oriented -Ex-Secretary To Cabinet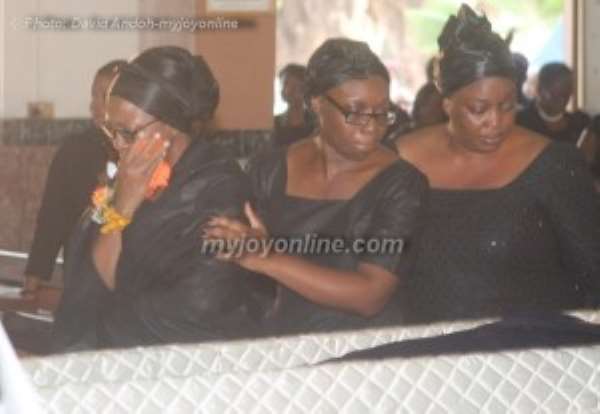 Date published: February 24, 2014
 
Dignitaries filing past the mortal remains of Komla Dumor continued to extol his legacy of excellent service to humanity and unique disposition that glued listeners of BBC News to their sets.
Mr. Ben C. Eghan, former Secretary to Cabinet, in an interview with the Ghana News Agency said Komla was 'oriented to serving his nation…always giving his very best and looking for excellence.'
Wife-and-sister-file-past-the-body-of-Komla
Wife-of-Komla-prays-for-the-soul-of-her-husband
some-traditional-rulers-at-Komlas-funeral
traditional-wailers-bid-Komla-farewell.
Alan-Kyeremateng-at-the-funeral
Dr-Bawumia-at-Komlas-funeral
 
 He observed that Komla's successful broadcasting career progression rooted deeply on his impeccable commitment to serving humanity without ulterior motive, a legacy the youth and the media ought to emulate.
Rev Dr. Joyce Aryee, former Chief Executive Officer of the Ghana Chamber of Mines, described Komla as a daring journalist who displayed unique qualities in his profession, and often strove for excellence.
Following Komla's death, many personalities have paid glowing tributes, with President John Dramani Mahama saying on twitter that Ghana had lost one of her finest ambassadors.
President-John-Dramani-Mahama-was-there-to-pay-his-last-respect-to-Komla
President-John-Mahama-in-a-handshake-with-Pro.-Dumor-at-the-funeral
Prof-Dumor-with-Kwansema
Komlas-daughter-in-tears
K omlas-wife-being-consoled-by-sister-in-law-.
good-bye-
Komla-homeward-bound-.
5238511698734_29180551635
Former-President-Rawlings-at-the-funeral-of-Komla
BBC Director of News, James Harding, had also said: 'It is hard to believe that Komla is no longer with us, because in every way, he was larger than life.
 'He had such an infectious enthusiasm for life, for Africa, for the story. He was an inspiring journalist both on screen and off it.' In remembrance of his legacy, the Ghana Journalists' Association (GJA) on Tuesday held a memorial vigil to extol his unflinching resolve to uphold high journalistic and ethical standards.
Mr. Affail Monney, GJA President, described Komla as an iconic journalist with sterling qualities who created 'psychological link between Ghana and the rest of the world.'