Man Arrested For Poisoning Boy, 3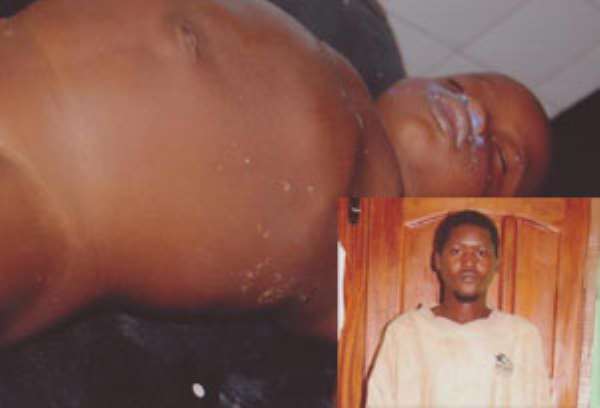 The dead child inset GRABBED! Bagyerekum Dakora

A 35-year-old farmer at Apesika, near Kintampo in the Brong Ahafo Region, has been arrested for allegedly poisoning a three-year-old boy.
Bagyerekum Dakora, who has admitted the offence, on January 31, 2014 reportedly poisoned a cashew nut and gave it to the little boy, Anthony Bornia, who was on his way to school around 7:30am.
The little boy ate it and died instantly.
Dakora fled into the bush after committing the heinous act.
He was however arrested by the police the following day after intensive search.
DAILY GUIDE learnt that the suspect told the police during preliminary investigations that he intentionally killed the little boy to avenge the death of his one-and-half-year old daughter, Jessica Bagyerekum, who died a couple of months ago.
The suspect claimed the father of the three-year-old boy, Nagwani Kankara Bornia, 30, used some mystical powers to kill his daughter spiritually.
According to the suspect, after the painful death of his daughter, he consulted a fetish priest, who showed him the picture of Nagwani Kankara Bornia in a mirror after some incantations.
He therefore decided to kill a son of Nagwani Kankara Bornia.
The mortal remains of the child has been interred and the suspect has been remanded into prison custody.
 FROM Fred Tettey Alarti-Amoako, Sunyani