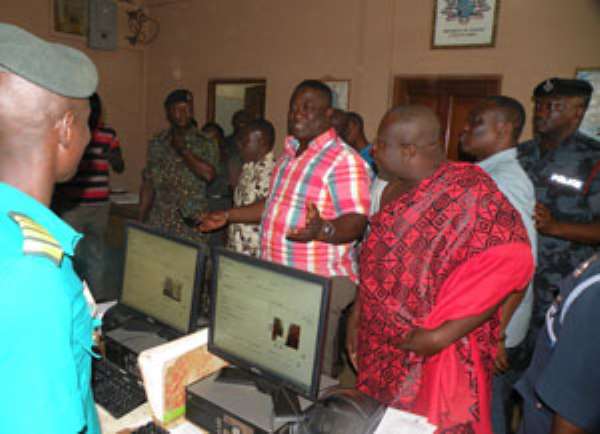 Volta Regional Minister Afotey Agbo interacting with immigration officials

The Ghana Immigration Service has embarked on border patrols at Aflao to clamp down on commercial motorbike operators, popularly known as 'okada' riders.
The motorbike operation, which has been described by concerned Ghanaians as risky, worrying and less efficient, has among other things, increased the rate of smuggling, human trafficking, robbery and insecurity among the people. Revenue generation has also been badly affected by the development.
These issues came up when the Paramount Chief of the Aflao Traditional Area, Torgbui Adzonugaga Amenya Fiti V and the Aflao Border Security Council (BORDSEC), which consists of the Municipal Chief Executive, Pascal Lamptey and all heads of security agencies at Aflao, interacted with the Volta Regional Minister, Nii Laryea Afotey Agbo.
The interaction, which took place in the Ketu South Municipality of the Volta Region, saw the security heads and the Aflao overlord lamenting the challenges, which they unanimously concluded were very overwhelming, and so had to do all within their powers to bring them under control.
Torgbui Fiti, in his interaction with the Regional Minister, alerted that 'the entry routes are too porous,' making it difficult for the security agencies to clamp down on offenders.
He also revealed that 'the security personnel don't have accommodation, a situation that has compelled them and their families to seek temporary accommodations in town.' According to Torgbui Fiti, he released a parcel of land to the Immigration about eight years ago for the construction of accommodation, yet nothing had been done so far.
He wondered why the Customs and Immigration Services would be seizing vehicles every now and then and yet lacked vehicles for their duties. He bemoaned, 'Even common cars they don't have… so they are using motorbikes for patrols.' This is bad.'
The Aflao Sector Commander for the Ghana Immigration Service, Julius Gborglah, corroborated what the traditional ruler had outlined saying, 'The commercial motorbikes…the operation we frown on, carry us for patrol duties.'
The Aflao Sector Commander of the Customs Division of the Ghana Revenue Authority, Ben Beckley, complained that the 200 personnel were woefully inadequate to monitor movements along the Aflao, Kpoglo and Akanu borders.
Mr. Beckley, who is also the Chairman of the Border Security Council, noted that despite these challenges, morale on the ground was high. He added that their strategies ensured a crime-free Yuletide last year. He stressed that for any meaningful and productive work to be done along the borders, there was an urgent need to improve infrastructure, conditions of service and increase personnel.
The Regional Minister, who was accompanied by his deputy, Francis Ganyaglo, urged the security bosses and their subordinates to be dedicated, patriotic, fair and firm in the discharge of their duties. He also assured that their concerns would be sent to the appropriate quarters for prompt action.
The team visited Diamond Cement Factory, Kpoglo and Akanu Border posts.
From Fred Duodu, Aflao