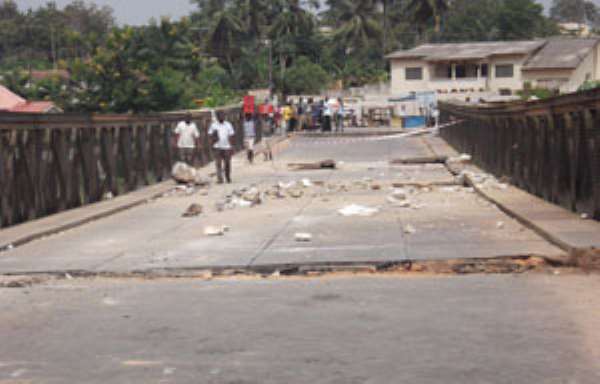 The state of the bridge

Information reaching DAILY GUIDE indicates that residents of Agona Swedru in the Agona West District of the Central Region are planning to stage a massive demonstration against the Municipal Chief Executive (MCE), Mr Samuel Oppong.
This follows a dynamite blast by a contractor dredging the Akora River near a steel bridge that links the town, destroying it beyond repairs.
The residents stated that the MCE has to be held accountable for the blunders committed by the contractor who was awarded the contract.
The blast which damaged portions of the residence of the chief of Agona Swedru, Nana Kobina Botwe II, and four other houses in the vicinity, has also divided the town into two, a situation which is hampering the development of the area.
An opinion leader in the area, Nana Kweku Oman Acquah, disclosed this in an interview with the press.
Nana Acquah noted that the blast has also worsened the already heavy vehicular traffic in the town due to lack of access roads in the area.
He added that the situation, if not dealt with immediately, would greatly affect business activities in the town as well as the entire region.
The residents appealed to the Mineral Commission as well as the other security agencies to come out and inform the public if the contract was properly awarded.
The chief of Agona Swedru, Nana Botwe, expressed concern about the way most contracts have been awarded to people who do not have any construction background but were awarded on 'whom you know criteria'.
It would be recalled that about a week ago, the contractors dredging the Akora River, Las Adventures Limited, blasted some rocks in the river with dynamite in the course of work, but the intensity of the blast blew away parts of the bridge, rendering it ineffectual.
However, the Central Regional Minister, Mr Samuel Sarpong, has instituted a probe into the blasting case.
Effort to speak to the MCE proved futile.
From Sarah Afful, Agona Swedru