Ministry formulates Policy for Local Economic Development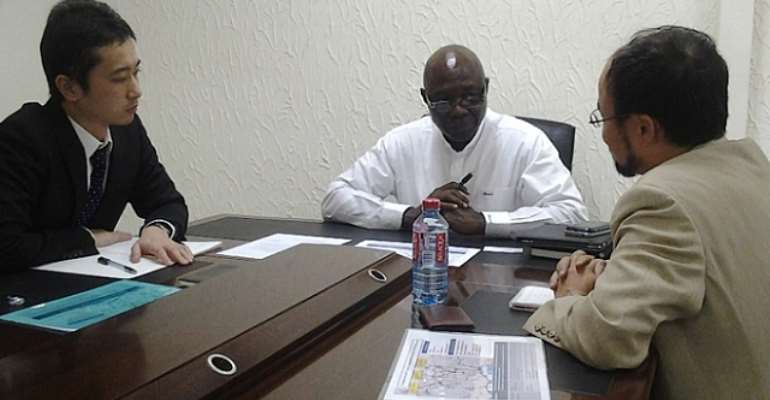 Mr Akwasi Oppong-Fosu, Minister of Local Government and Rural Development on Friday disclosed that the Ministry is coming out with a Policy formulated to enhance Local Economic Development.
He said the policy, which had being approved by cabinet, when adopted, will be disseminated to Metropolitan, Municipal and District Assemblies (MMDAs) for implementation, to help them identify the local development needs in order to enhance and improve the living standards of their people.
Mr Oppong-Fosu disclosed this when a two-member delegation from the Japan International Co-operation Agency (JICA), led by its Chief Representative, Mr Koji Makino called on him in Accra.
He said part of the policy is also to encourage Public Private Partnership (PPP) in infrastructural and transport development at the local level, especially, the roads and railways sectors in the country.
Mr Oppong-Fosu noted that if the PPP is encouraged and achieved to the maximum, Government will then use its limited resources available to improve and develop other areas of the country's economy.
He said President John Dramani Mahama had recently inaugurated the Ghana Infrastructural Fund, which has the mandate to address the country's infrastructural deficits.
Mr Oppong-Fosu said the fund will focus on strategic infrastructure that can result in job creation and propel the growth of the economy and operate in partnership with the private sector.
He said potential sources of funds include appropriations by Parliament, escrowed and in-lent funds from prior investments, and foreign funds from multilateral institutions and development banks.
Mr Makino said the delegation was in Accra to present to the minister, JICA's Strategic Master Plan for West Africa.
He noted that the United Nation (UN) and Ghana have done a lot of studies and developed architectural plans to improve infrastructural development in Ghana, adding that, "A lot more needs to be done to improve infrastructure development in West Africa."
Mr Makino said a Japanese Government Development Agency known as "Contact the Mission" will be in Ghana at the end of March this year to hold discussions with the Ministries of Finance, Foreign Affairs and Regional Integration and the Ministry of Local Government and Rural Development to collaborate in executing the master plan.
He said there is the need to identify and detail some potential areas which needs to be improved, not only on infrastructure, but also in the Industrial and Agricultural sectors.
He cited the Upper West Region of Ghana as one of the regions in the country which has the potential in agricultural development.