Tribute by Komla's dad: My son lived in truth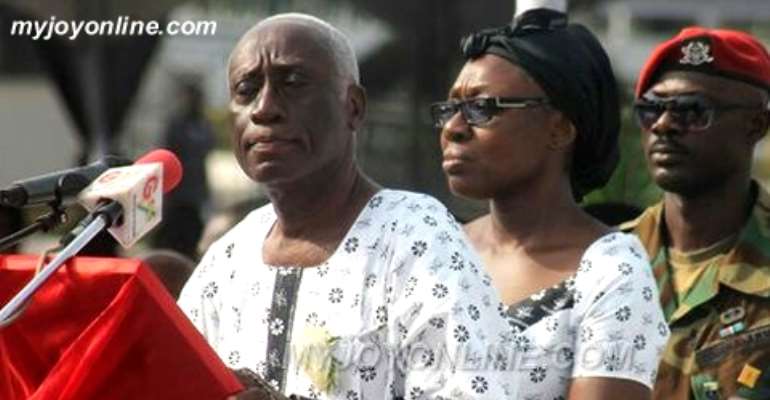 Beginning his tribute with a very "profound" biblical verse, the late  Komla Dumor's father, Professor Ernest Dumor, somberly recalls that his son always lived in truth.
 "I am led to this simple but very profound verse in the scriptures - 'teach me your ways and I will walk in your truth'. Yes indeed, Komla, you strove in your short life to walk in truth", he said solemnly.
Additionally, the distinguished sociology professor noted; "no amount of words or pontification on my part as your father can change what you have become".
Since his sudden death in London on January 18, 2014,  dignitaries from Ghana and across the world have eulogized the "Boss Player"  http://dumor-tribute-dad who was dedicated to telling the 'African story'.
Former President, Jerry John Rawlings in a belated tribute confessed,  "Komla is the last person, who should actually be dying". /news/2014/February-21st/.php
Microsoft's Bill and Melinda Gates said they will miss the ace broadcaster's work of bringing the stories of Africa to the rest of the world.
"My words cannot increase the immeasurable impact you have made by touching so many people, so many voiceless people", Prof Dumor said, stressing that Komla's work as a professional broadcast is a priceless gift to society.
Overwhelmed with the numerous tributes from all walks of life that came pouring out for his late son, Komla, the professor of Sociology noted; "It was almost as if you were repeating to yourself all the time the famous line in the Roman ode, 'dulce et decorum est pro patria mori'; 'It is right and fitting to die for one's fatherland' - and you did. That is why so many people from all walks of life have come to pay their respect".
This was an apt observation by Professor Dumor on the second day of funeral rites of the late Joy FM and BBC broadcaster, which took place at the forecourt of the State House in Accra, Saturday.
Present were the President, John Mahama, delegates from the late Nelson Mandela's family, BBC director of global news, Peter Harrocks, chiefs and many other dignitaries.
"Komla you are the legacy. Komla I am so ever grateful for your life. What else can I say or do but to go on my knees and to say, 'I confess my faith to you Lord through praise and worship.
"You brought honour and dignity and indeed a feeling of fulfillment to us. You gave full expression to the basic core values, which we cherish as a family: discipline,  a zeal for knowledge, self-giving, self-denial, self-conservation, hard work and personal integrity", the distinguished professor recounted.
Professor Dumor revealed his son had an abiding faith in values that keep the entire family together.
"God showed you his compassion and allowed you to break the barriers to the chagrin of your detractors. I am very profoundly proud of you.
"As I reflect on your life, I feel so convinced that somewhere along your life's journey, Blessed Mother Theresa was whispering in your ears the following: a life not lived for others is not life. Each one of them is Jesus in disguise.
"God doesn't desire us to succeed. He only requires us to try and you did try.
"Komla you have become an icon for many, a gem for many more. But for me, your sister, Mawuena and your brother, Korshie, you will forever be the root of the home".
Komla Dumor died on January 18, 2014 in London, at the age of 41 and the funeral service will run through to tomorrow, 23 February, 2014 with a Thanksgiving Service at the Holy Spirit Cathedral in Accra at 9:00am.
Komla left behind a wife and three children.
Story by Ghana | Myjoyonline.com | George Nyavor | [email protected]