Jazeera journalists receive free speech prize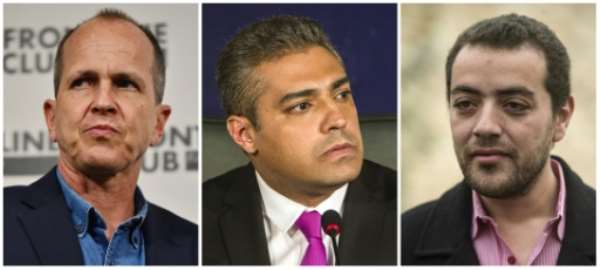 Al-Jazeera's Egyptian producer Baher Mohamed (R) and Al-Jazeera's Egyptian-Canadian reporter Mohamed Fahmy. By Khaled Desouki (AFP/File)
Warsaw (AFP) - Three Al-Jazeera journalists who served jail terms in Egypt were honoured Tuesday for standing up for freedom of speech despite intimidation and incarceration.
This year's Freedom of Speech Award from the International Association of Press Clubs (IAPC) went to Australian Peter Greste, who accepted the honour also on behalf of Mohamed Fahmy and Mohamed Baher, at a ceremony in the Polish capital Warsaw.
Greste hailed Egypt's recent release of his two Jazeera television colleagues along with scores of other detainees, but said Cairo needed to do more to guarantee fundamental freedoms in order to secure national stability.
"In releasing a hundred prisoners including some very important activists, including Fahmy and Baher, (Egyptian) President (Abdel Fattah) al-Sisi made a very important step: an acknowledgement of the need to address some of the injustices that have happened over the years.
"They (authorities) need to make sure they keep going down that path for Egypt's stability to be assured," Greste told AFP.
Rights watchdog Amnesty International has called for the release of other political detainees held in Egyptian jails, including well-known bloggers Alaa Abdel Fattah and Ahmed Douma.
After their arrest in December 2013, a Cairo court sentenced Greste and his two colleagues for fabricating "false" news in support of the banned Muslim Brotherhood movement.
Baher and Fahmy were pardoned and released from jail late last month. Fahmy, a Canadian journalist represented by high profile lawyer Amal Clooney, announced Tuesday he was flying home.
Greste, who was deported to Australia by presidential decree in February after spending 400 days in jail, told AFP Tuesday he has still not been formally pardoned and fears arrest when he travels outside Australia.
"I need to be very careful about where I travel, because that's always a risk until it's cleared," Greste said.
Established in 2002, the IAPC brings together press clubs from 30 countries around the globe and focuses primarily on media ethics and press freedom.