Pay Nursing Teachers Well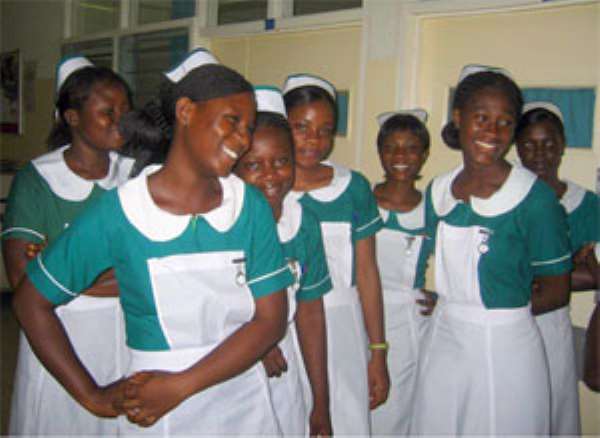 Some student nurses

In a bid to motivate and enhance the performance of health training institutions in Ghana, government has been urged through the Ministry of Health (MOH) to draw up attractive conditions of service for principals and tutors of such institutions.
This suggestion was made by a former Chairman of the Conference of Heads of Health Training Institutions (COHHETI), James Yambor, at the National Annual General Meeting of the Nurse Educators Group (NEG) in Ho recently.
It was themed: 'Improving Academic Performance through effective teaching'.
According to him, the improved conditions of service should be tied to the signing of a performance contract between tutors and principals and another between principals and the MOH for quality delivery of service.
Mr Yambor explained that the signing of the performance contract, would offer the opportunity to identify the institutional challenges in the quality training of health professionals and allow high performing schools to be motivated to perform better, while low performing schools could be given special help to address their identified weaknesses.
This, he believed, coupled with student-tutor collaboration, would go a long way to reverse the poor performance of students in examinations, particularly the licensing examination.
He also advised the MOH to develop and implement strategies to monitor and evaluate the performance of health training institutions to promote quality health education and service.
The Chairman of the Nurse Educators Group (NEG), Samuel MacCarthy, in a speech read on his behalf mentioned the lack of infrastructure and inadequate teaching and learning materials as some of the challenges facing the institutions and called for assistance.
The Nurse Educators Group was established in 1978 in Kumasi, and comprises of all tutors from the health training institutions, public/private universities and other private health training institutions in Ghana. The meeting was used to take stock of activities of the year under review and how to find solutions to the loop holes within the group.
  From Fred Duodu, Ho