Kumasi traders suffer another jolt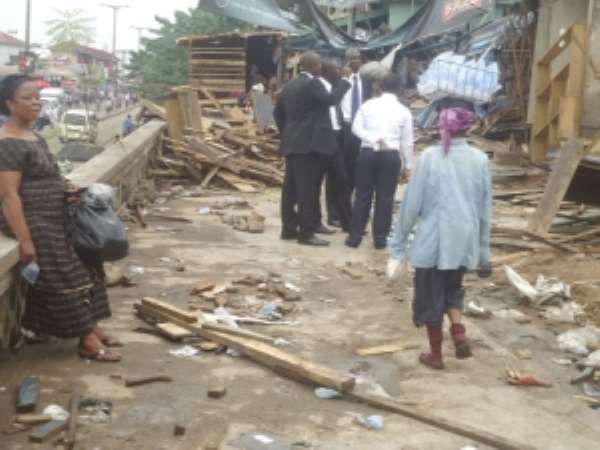 Some traders whose shops, stalls and kiosks were destroyed at the Adehyeman Gardens in Kumasi on February 16, 2014, suffered another setback when structures they put up to restart their businesses were again destroyed by personnel of the Police Buffalo Unit and some macho-men early Wednesday.
Others were spared the ordeal when the Chief Executive Officer of the Kumasi Metropolitan Assembly (KMA), Mr Bonsu, asked those carrying out the exercise to halt it.
Officials of the KMA confiscated a bulldozer that was being used to demolish the structure and caused the arrest of two operators of the bulldozer, two macho-men and five policemen, led by Sergeant Emmanuel Opoku.
The two macho-men are Tahiru Haruna and Kofi Yeboah (both in their 30s) and the two bulldozer operators are Francis Yaw Appiah (32) and Kwasi Ofori, 28.
The policemen from the Buffalo Unit were alleged to have been directed to provide security at the demolition site.
Mr Bonsu expressed worry about the exercise and added that the KMA would always protect the people in the metropolis and, therefore, would not allow any action to undermine their safety and security.
The Metropolitan Security Council on February 17, 2014, set up a five-member committee to investigate the circumstances that led to the demolition exercise at Adehyeman, near Kejetia in the Central Business District (CBD), on Sunday.
The committee was given one week to present its report.