Fish in Lake Bosomtwe dwindling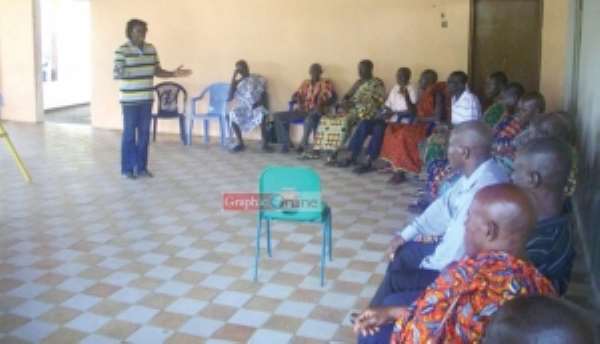 A research conducted by UNESCO in collaboration with the Kwame Nkrumah University of Science and Technology (KNUST) has revealed that fish stocks in the Lake Bosomtwe have dwindled drastically.
The research findings attributed the problem to the use of undersize nets in fishing which destroys breeding stocks, and the growth of algae, resulting from cage fishing in the lake.
A senior research scientist with the Water Research Institute, Dr Joseph Kitson Ofori, speaking at a meeting of representatives of communities at Abono on Monday, explained that the growth of algae in the lake was as a result of the introduction of other nutrients into the lake, through cage fishing. Meeting
The meeting, which had the theme: "Conserving Lake Bosomtwe, Its Resources and Environment", was organised by UNESCO. It formed part of UNESCO's Lake Bosomtwe Conservation Project
Demonstrations and discussions were held on how to improve fish smoking and frying, to help extend the period of using fish that had already been removed from the lake, so that demand for more would be reduced. Project
As part of the project, fishermen in the area are being taught how to undertake pond farming around the lake with stocks from the lake as a breeding product.
Dr Ofori said the current situation whereby some residents along the lake complained of body itching after swimming in the lake could be attributable to the change in the quality of water of the lake.
Nana Appiah Kubi, Krontihene of Asaman, on behalf of the traditional authorities, commended UNESCO for building their capacity and the effort being made to protect the lake and the life of the people living along the lake.
He promised the UNESCO and the other stakeholders of their support. 
The chief appealed to the government to, as a matter of urgency, improve upon the road network along the lake to help promote tourism there and enhance livelihood.