Months after deadly demos, UN expert awaits Sudan probe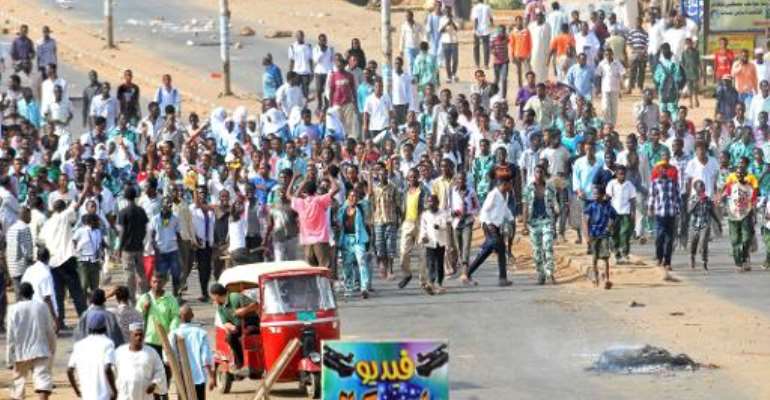 Khartoum (AFP) - Sudanese investigations into the country's worst urban unrest in two decades have still not been made public, months after the September demonstrations, a UN expert said on Wednesday.
Dozens were killed and hundreds detained in the unrest sparked by a rise in fuel prices.
"The international community expects a thorough investigation of the human rights violations that occurred during the September demonstrations," the UN's independent expert on human rights in Sudan, Mashood Adebayo Baderin, told reporters.
He said the government told him in December it had set up two committees to probe the September events.
"I regret to note that five months after these incidents the committees set up by the government have not yet issued their reports or findings," Baderin said at the end of an eight-day mission to the country.
Demonstrations began on September 23 after President Omar al-Bashir slashed petrol subsidies, raising prices by more than 60 percent in the impoverished nation.
Thousands took to the streets with calls for the downfall of the regime.
Security forces are believed to have killed more than 200 demonstrators, many with gunshots to the head and chest, according to Amnesty International.
Authorities gave a toll of less than half that and said they had to intervene when crowds turned violent, attacking petrol stations and police facilities.
The government initially reported it had detained 700 "criminals" after the protests but authorities later said most had been released.
Baderin, a law professor at the University of London, said the numbers of dead and arrested remain unclear.
"This is why there is a need for verification," he said. "I'm waiting on the government for their report."
Baderin added that if he gets detailed information from non-governmental organisations, he will compare that with government data.
This was the first of his two missions to the country this year, following up on recommendations he made in a September report.
After meeting government figures, opposition leaders, UN officials and non-governmental groups, Baderin said the human rights challenges raised in his September report still appear to be of concern.
"Namely, the curtailment of the activities of civil society organisations, press censorship, arbitrary arrests and detentions, freedom of religion" and others, including access for humanitarian workers.
Baderin said the government has made progress in developing policies and mechanisms necessary for improving human rights, but now it must implement them.
He visited three states of the Darfur region, where violence worsened last year, and also travelled to Kadugli, the capital of South Kordofan where government and rebel troops are fighting.
UN officers in South Kordofan emphasised the problem of unexploded ordnance and the need for demining, he said.
Two children playing with unexploded ordnance were killed just a few days before his visit, he said.