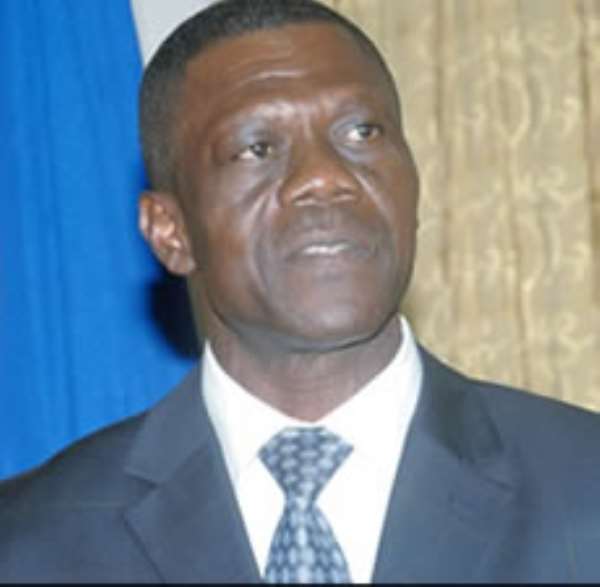 National Security has claimed responsibility for the 'black dawn' operation which leveled the toll booths under construction on the University of Ghana campus.
The National Security Coordinator, Lt. Col. Larry Gbevlo Lartey, says the exercise was undertaken to ease the traffic jam that has been occasioned by the construction of the toll booth, and which is causing a lot of "nuisance" and "complete disaffection to the general public".
Speaking in an interview on Joy FM, an Accra based radio station, Mr. Gbevlo Lartey, said his action became necessary after several advice to the university to relocate the booths proved futile.
According to the National Security Coordinator, the university's intent to construct the toll booth at its current place "must be stopped now before they complete it and start asking us if we were sleeping when they were building it".
The action of National Security has been received with mixed reaction by the general public. While others hold the view that the university itself was perpetrating an illegality by going ahead to charge tolls without parliamentary approval, and for which it has been dragged before the Supreme Court, others say the national Security acted irresponsibly by taking the law into its own hands.
But Mr. Gbevlo Lartey says the action was within the remit of his powers to make and that his outfit only spoke a language that was best understood by the university authorities  
University authorities have since condemned the action of the national security operatives, who undertook the demolition exercise. The University authorities on February 1, this year, began charging road tolls from all vehicles entering the main campus.
University authorities explained that the tolls would help the university defray a loan facility it took to rehabilitate roads in the university.
This decision has received mixed reaction from the general public, many of whom are of the opinion that the university cannot charge road tolls without approval from parliament.
Earlier, Students of the university had petitioned Parliament against the introduction of the road tolls and to intervene in the matter.
Two students of the university went to the Supreme Court to impose an injunction on the school from charging the tolls.
They are arguing that the action of the respondents had violated Article 174 (1) of the 1992 Constitution, because the tolls were introduced without an Act of Parliament.
The government also intervened by asking the University of Ghana to rescind its decision to impose tolls on motorists who use the university campus roads.
This directive has since not been heeded to.