Manual Registration Of Vehicles Ends In September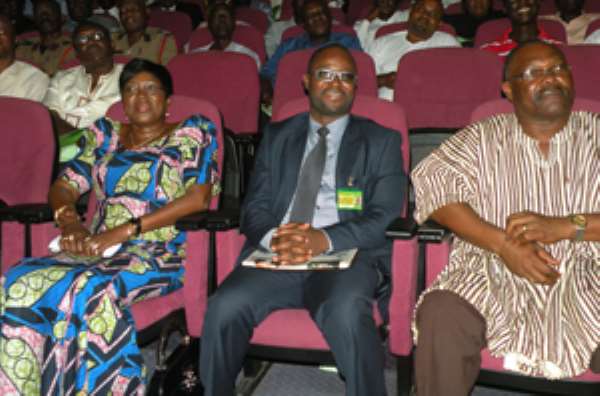 By Solomon Ofori
A section of dignitaries at the launch
The Minister for Transport, Dzifa Attivor has stated that the old manual system of vehicle registration will be abolished by the end of September 2014.
She said many Ghanaians would be sensitized on the new online automation programme of the Driver and Vehicle Licensing Authority (DVLA) before the deadline.
She said preference would be given to applicants that use the new system and urged all prospective clients, businesses and corporate institutions to acquaint themselves with the new system.
The Minister said this during the launch of the Automated Services programme of the DVLA, which was under the theme, 'Living the dream of reliability and excellence in service delivery,' at the College of Physicians and Surgeons in Accra yesterday.
Mrs. Dzifa Attivor stated that the renewal of license, conversion of foreign license, international driver permit, replacement of license, upgrade of license and proficiency Test would be automated.
She commended the DVLA for passionately implementing key projects that seek to inject efficiency and reliability in service delivery.
She said the introduction of the computer Based Theory Test, which replaced the manual-based assessment of applicants for licenses in 2012, resulted in an annual average pass rate of 42% as against 85% in the manual case.
The Acting Chief Executive Officer (CEO) DVLA, Rudolph K. Beckley, decried the delay in the manual system of vehicle registration.
Mr Beckley gave the assurance that the automated services would save time and create a platform for more clients to be served, adding that that would increase revenue.
He further said the automated services would help prevent fraud, revenue leakage, improve access to information on vehicles and enhance security of records and consumer satisfaction.
The Chairman of the DVLA Board, Brig-General J.B Qartey, said the authority has 26 offices throughout the country.
He said 13 accredited privately-owned registration centres are expected to be opened by the end of the year.
The Board Chairman paid glowing tribute to the predecessors for their relentless effort in laying the foundation for today's innovations.
The Minister for Roads and Highways, Alhaji Amidu Sulemana, who chaired the event, urged the Authority to help clients to enjoy online services by eliminating all bottlenecks.