Adjei-Kojo 'Refugees' Beaten Up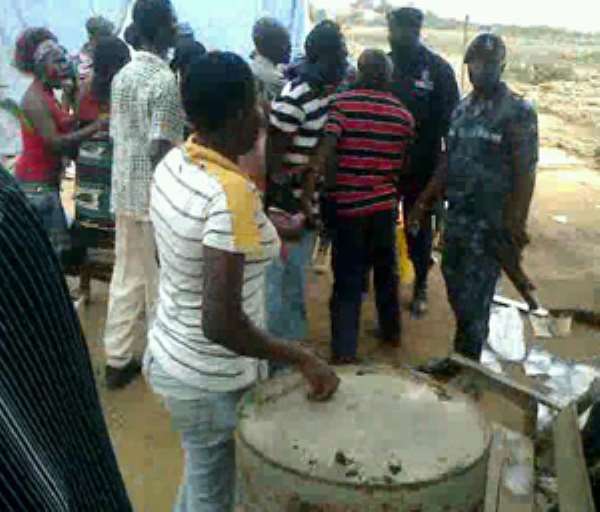 Some of the police personnel in exchanges with the displaced victims.

TWO DISLODGED people at Promised Land near Adjei-Kojo, sustained various degrees of injury last Tuesday when they were allegedly engaged in a fight with some security personnel supervising the demolition of houses in the area.
The victims were identified as Famous Gamore and Cudjoe Asemsro, both residents whose homes were flattened and were putting up in tents with their families. They were arrested and sent to a camp built by the security personnel – made of the police and military in the area.
Displaced victims were said to have rushed on the security personnel to protect their items when the men in uniform allegedly fired warning shots with live ammunitions to disperse the angry crowd, some of whom have been sleeping in the open after their homes were demolished by the Tema Development Corporation (TDC) recently.
Some of the residents complained of having been assaulted with butts of the guns and others were reported to have been flogged with belts.
The incident purportedly occurred when the residents resisted a bulldozer which was clearing debris of demolished buildings and leveling the land close to one of the tents in the area.
But the police and military men, out of anger, destroyed some of the tents and ordered the operator of the bulldozer to run the vehicle over their items.
When DAILY GUIDE got to the scene, one of the victims was seen being forced out of a camp put up by the security agencies The residents fought using stones to pelt the military and police men besides hurling insults and curses on them.
Some tents and food items donated to the victims by individuals and institutions were also spotted destroyed.
Mr. Emmanuel Gakpotor, a National Security personnel whose house was also demolished, narrated to DAILY GUIDE the two victims attempted to take water donated to them and their personal belongings from the tent close to where the bulldozer was working when the security personnel assaulted them.
Information gathered also by DAILY GUIDE indicates that the security men who had been supervising the demolition of the structures, once again went there to protect TDC workers to level the land and remove debris of the purported illegal structures built on a disputed land.
 From Vincent Kubi, Tema